"Across the Americas" Event Emphasizes Radiologists' Role in Outreach Initiatives
RSNA completed its Building Connections Across the Americas: Addressing Access to Radiology program during Jornada Paulista de Radiologia (JPR) 2023 in Sao Paulo, Brazil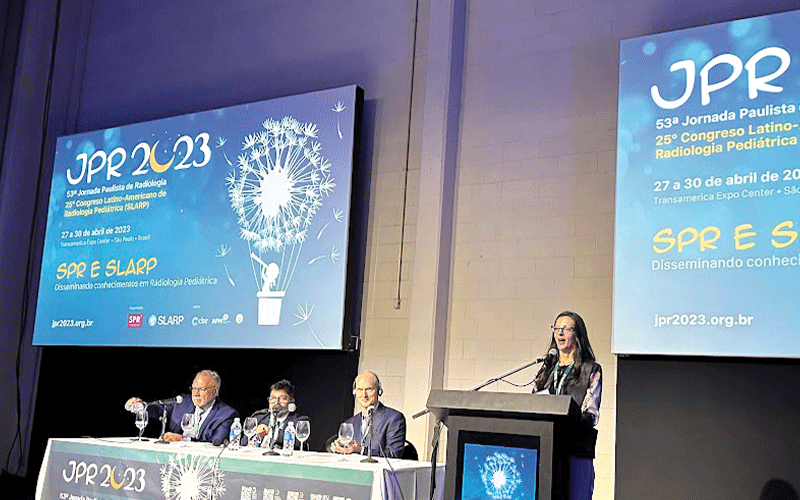 The two-day event was organized by RSNA and the Sociedade Paulista de Radiologia (SPR), and was the third in a three-part series designed to improve and strengthen radiology education, processes and resources throughout South, Central and North America. The entire series also focused on improving the quality and safety of patient care.
"Innovation in radiology happens hundreds of times a day throughout the globe," said Umar Mahmood, MD, PhD, secretary-treasurer of the RSNA Board of Directors and Board liaison for international affairs. "That innovation in improving access stays local without the power of sharing."
"Discussions brought forward in this meeting help accelerate the development of solutions, share experiences and point to future directions in global health imaging. They foster collaboration that can lead to real changes, including volunteering opportunities," said Carolina Souza, MD, PhD, from the University of Ottawa, who was one of 13 moderators and presenters for the event in Brazil.
Dr. Souza said that programs like Building Connections Across the Americas nurture a passion that helps create a generation of radiologists dedicated to global health imaging.
"These discussions were particularly important for young radiologists to be introduced to the concept of global health, to learn, to reflect and to nourish a commitment for making a difference in the world," Dr. Souza said.
"Limited access to radiology services and education is a critical piece of global health disparities."
CAROLINA SOUZA, MD, PHD
Program sessions addressed access to imaging services in remote areas, and emphasized the importance of understanding local context and how the definition of "underserved" can change based on setting and circumstances.
"These are resource-limited areas with disparities in access to knowledge and technical support," Dr. Souza said. "The educational needs differ and must be tailored to specific requirements of the host institution, taking into account epidemiological knowledge of local diseases and awareness of imaging resources available."
She added that this awareness enables the delivery of cost-conscious care and contributes to the positive impact of imaging use in patient outcomes.
"It is pivotal to identify and understand cultural and social differences that may impact the success of collaboration, and to adapt your behavior to a different environment, with no prejudice or negative judgment," Dr. Souza said.
Presenters also shared insights on partnership in education and challenges in imaging AI. Additional sessions included industry case studies and a strategic discussion about the radiology profession that included a look at several aspects of the radiology work environment and the future of the specialty.
Radiology's Responsibility to Global Health Care
Building Connections Across the Americas is a program of the RSNA Committee on International Radiology Education, chaired by Guillermo Elizondo-Riojas, MD, PhD, research director at the Autonomous University of Nuevo León in Mexico. It is funded by the U.S. Department of Energy's National Nuclear Security Administration (NNSA).
"Limited access to radiology services and education is a critical piece of global health disparities," Dr. Souza said.
She added that according to the World Health Organization, one half to two-thirds of the world's population has limited or no access to basic radiology services, including US and X-ray.
"We became doctors to help people. We all do that in our own way across many different scales in our own hospitals," Dr. Mahmood said. "By extending that and sharing our lifetime of knowledge and efforts in using imaging to help diagnose disease, we can meaningfully improve health outcomes more broadly."
For More Information
Access the RSNA News articles about the previous "Building Connections Across the Americas" events: