RSNA Member Spotlight: Hailey Choi, MD
Learn more about a fellow RSNA member
---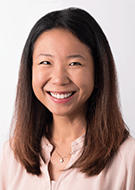 ---
Hailey Choi, MD, is an assistant professor of clinical radiology in the abdominal imaging and US subspecialties at University of California, San Francisco. Dr. Choi earned her medical degree and completed a preliminary year of internal medicine at the University of Medicine and Dentistry of New Jersey at the New Jersey Medical School in Newark.
She went on to complete a four-year residency in diagnostic radiology at MedStar Georgetown University Hospital in Washington, DC, serving as chief resident during her final residency year. Afterwards, Dr. Choi completed a body imaging fellowship at Stanford University in Stanford, CA.
An active researcher, Dr. Choi also serves as an imaging informatics and gastrointestinal abstract reviewer on RSNA's Education Exhibits Awards Committee and on the RadioGraphics Gastrointestinal Imaging Review Panel.
What or who sparked your interest in radiology?
I first encountered radiology when I was in a doctor shadowing program as an undergraduate student. I shadowed a radiologist in my local hospital for half a day. I was blown away by the complex anatomy and the radiologist's knowledge of how a finding or diagnosis would impact the patient.
I walked away thinking that radiologists were knowledge powerhouses for the hospital. As I went through my clerkships in medical school, the initial spark of interest in radiology resurfaced. I appreciated the ubiquitous presence and impact of medical imaging and began to think that maybe I also had a chance at becoming that knowledge powerhouse.
As I continue my radiology career, I reconfirm my passion for medical imaging every day as I watch intricate anatomy, physiology and biomechanics unfold before my eyes on a screen.
What has been your best professional accomplishment?
I am very fortunate and proud to have a rich network of collaborators within and outside of my subspecialty, discipline and institution. I have built meaningful relationships with many mentors and colleagues through my training, current faculty position and society involvement.
I collaborate with hepatologists, gynecologists, oncologists, pathologists, musculoskeletal radiologists, neuroradiologists and informaticists in clinical practice and research. For example, I am an integral part of a multidisciplinary effort in implementing, maintaining and evaluating US LI-RADS at our institution. The project has led to changes in clinical practice as well as several research abstracts, including one that was highlighted at RSNA 2022.
The wide network of diverse perspective enriches my approach to how I engage with patients, perform procedures and interpret imaging. I hope this to be a long-lasting, potentially lifelong, professional accomplishment.
What has been the biggest challenged you have faced in building your career?
The biggest challenge I faced was starting my career at an unfamiliar academic institution. Starting my first job out of training in a large academic center, where I had few connections, was daunting.
The practice setting, referring provider base, imaging techniques and education methods were slightly different from my experiences as a resident or fellow. I learned to be open-minded, seek feedback and most importantly, focus on what is best for the patient.
Keeping my goal rooted to caring for the patient let me feel more confident in my decisions and helped me think about differential diagnoses and next steps. I also met great colleagues and mentors who helped ease my transition and supported my interests.
What RSNA resources do you use/have you used to assist you with your professional development and in your daily work/practice?
I frequently reference RadioGraphics and Radiology articles, both for clinical decision making and teaching. For example, the recent article on ultrasonography of soft tissue masses is one that I reference almost every week. RSNA educational exhibits are another resource that I love. I think the exhibits are key to visually understanding anatomy, disease process or other related topics.
When you're not working, how do you like to spend your free time?
I am a fiber arts enthusiast—I spend my work-free time crocheting various items. My most recently completed project is a cropped sweater with butterfly details on the bottom seam that I made for myself.
I also recently started growing some vegetables in my garden. I've been growing some salad greens and radishes. I'm looking forward to growing carrots in the spring!
For More Information
Keep up to date on RSNA member achievements, moves and news by visiting RSNA.org/News/Announcements/Member-Updates.