Your Donations in Action: Lisa Sudmeier, MD, PhD
Location of CD8+ T-cells in Brain Metastases Can Influence Changes and Function in Brain Efficiency
---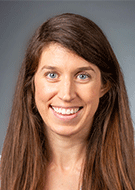 ---
Brain metastases affect a significant proportion of cancer patients and may cause devastating neurologic symptoms, impairing quality of life and survival.
Brain metastases are often treated with stereotactic radiosurgery, however many patients experience distant brain failure and develop multiple new lesions outside of the radiation treatment field.
For her 2020 RSNA Research Resident Grant project, "Characterization of CD8+ T-cells in Brain Metastases and Correlation with Response to Stereotactic Radiosurgery" Lisa Sudmeier, MD, PhD, assistant professor of radiation oncology at the Emory University School of Medicine in Atlanta, sought to identify novel therapeutic targets to combine with stereotactic radiosurgery to enhance the anti-tumor immune response in the brain and reduce distant brain failure.
According to Dr. Sudmeier, brain metastases are well infiltrated by exhausted CD8+ T cells, which are the targets of immune checkpoint blockade cancer therapies. These exhausted CD8+ T cells comprise multiple phenotypically diverse populations.
One of these populations, which appears to be the most exhausted and most likely tumor-specific, preferentially occupies niches within the brain metastasis parenchyma.
Conversely, another population, which is enriched for bystander CD8+ T cells, is more prevalent in the brain metastasis inflammatory stroma.
The researchers' analysis of the brain metastasis microenvironment revealed discrete signaling niches based on expression of signaling molecules, suggesting that CD8+ T cell subsets receive markedly different inputs depending on their location within the brain metastasis microenvironment.
Dr. Sudmeier said that interaction between the brain environment and immune cells may drive which CD8+ T cell populations exit the vasculature and infiltrate brain metastases and further influence functional and phenotypic changes of tumorresident CD8+ T cells.
The R&E Foundation grant allowed Dr. Sudmeier to start a new research direction. "The overarching goal of this work is to develop safe immunotherapeutic strategies with advanced efficacy in the brain," she said. "The work I carried out with the funding from this award laid the foundation for the research program I am currently building in my independent laboratory."
Learn more about R&E Funding Opportunities.
Read our previous Your Donations in Action article.