RSNA Member Spotlight: Sameer Raniga, MD, FRCR
Learn more about a fellow RSNA member
---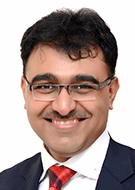 ---
Sameer Raniga, MD, FRCR, is an attending radiologist at Sultan Qaboos University Hospital in Muscat, Oman. He completed his radiology training and a fellowship in cross-sectional imaging at the Maharaja Sayajirao University in Vadodara, India, where he also served as an assistant professor in the Department of Radiology.
Dr. Raniga's subspecialty interests include emergency, musculoskeletal, and neuroradiology. He is a strong advocate for radiology education and is dedicated to promoting it to medical students, residents, fellows, and practicing radiologists in India and Oman through international outreach programs. He is actively involved in Oman's radiology residency training program as a trainer and as a core committee member of the Accreditation Council for Graduate Medical Education – International (ACGME-I). Additionally, he has a keen interest in radiology journalism, quality control, patient safety in radiology and non-interpretative skills.
In addition to his other roles, Dr. Raniga is a reviewer for several academic journals, including RadioGraphics, the American Journal of Roentgenology, the European Journal of Radiology and Insights into Imaging. He is also an associate editor for Sultan Qaboos University Medical Journal. Dr. Raniga serves as an education exhibits abstract reviewer for the RSNA Annual Meeting Program Planning Committee (AMPPC) and is a member of the RadioGraphics Social Media and Digital Innovation team.
Dr. Raniga has published over 40 articles in peer-reviewed journals, six book chapters, and 25 scientific exhibits, and has been an invited speaker at more than 80 national/international congresses.
What or who sparked your interest in radiology?
When I was in medical school, radiology had not yet reached its full potential. In the late nineties, access to modern technologies such as CT/MRI scanners was limited in India and many other developing countries. The city where I attended medical school had only one MRI unit available for a population of 1.2 million.
While on clinical rotation, I was accompanying a quadriplegic patient suspected of having a spinal cord lesion to the only MRI scanner in the region. In the console room, I monitored the patient alongside the MRI technologist and radiologist, who were focused on developing protocols and optimizing parameters for spine MRI.
As I watched spinal cord slices appear in different planes on the console, I was mesmerized by the images which until then, I had only seen in cadaveric dissections. After discussing the findings with the radiologist, I realized that radiologists are often the first to identify health issues and their discoveries can guide treatment decisions. Their expertise is essential in helping other medical professionals determine the best course of action.
I also recognized that radiology would become one of the most highly sought-after specialties due to the development of medical technology, cutting-edge imaging equipment and innovative imaging techniques.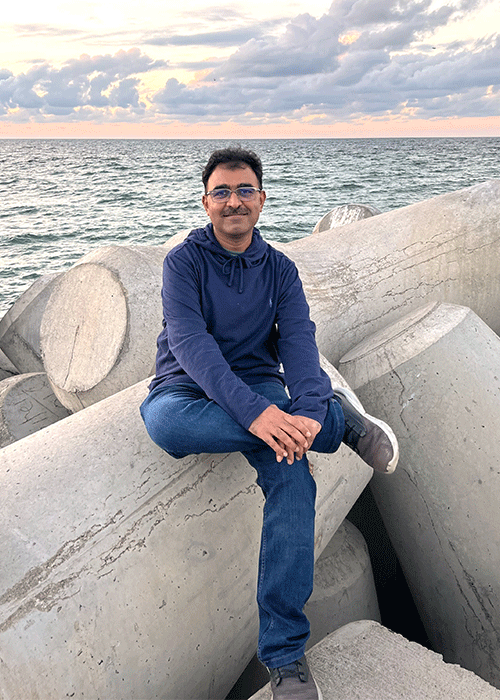 What has been the best professional accomplishment in your career?
As Yuval Noah Harari said, "All stories are incomplete. To give meaning to our life, a story needs to satisfy just two conditions: first, it must give us some role to play. Second, whereas a good story need not extend to infinity, it must extend beyond our horizons. The story provides us with an identity and gives meaning to our life by embedding us within something bigger than ourselves."
My collaboration with RadioGraphics and RSNA provides such stories that gave my career meaning. I've always wanted to contribute meaningfully to the journal. Recently, I was given a chance to do just that thanks to Cooky Menias, an inclusive editor who invited me to join the journal's Social Media and Digital Innovation team. We help improve content visibility and develop and implement exciting social media initiatives.
I have presented more than twenty education exhibits since 2012; three of them were selected and published in RadioGraphics, which was the highlight of my career.
Being invited as a faculty member to the RSNA annual meeting in 2021 was also a significant accomplishment for me, highlighting my contributions to the field of radiology. Joining the distinguished faculty of this event is a testament to my commitment to advancing the science and practice of radiology.
What has been the biggest challenge you have faced in building your career?
In India, where I received my radiology training, subspecialties were based on modalities rather than systems. However, the Western world was gaining traction with system-based subspecialties, making it a difficult transition from modality-based to system-based subspecialties in mid-career.
Radiology can be a demanding field with long hours, intense workloads, and the responsibility of accurate diagnosis, potentially leading to burnout and stress. To address these challenges, I prioritize self-care, taking opportunities to reflect on my career path and reassess my objectives proactively.
What RSNA resources do you use/have you used to assist you with your professional development and in your daily practice?
I am grateful for RSNA's commitment to promoting knowledge-sharing and professional development within the radiology community, which has benefited me immensely.
Personally, I fell in love with RadioGraphics when I started my radiology training. In the early days of the internet, our training site did not subscribe to the journal, and we had limited access to the online content. I and the other trainees used to visit a private radiology practitioner's office to peruse this journal. I refer to RadioGraphics as my "mentor," as it taught me how to think rather than what to think. It helped shape my career and personality as a radiologist.
How do you like to spend your free time when you're not working?
I am passionate about exploring new places, expressing myself creatively through writing and photography, and sharing educational content on Twitter to enhance global radiology education.
Traveling is my ultimate joy, as I love discovering diverse landscapes and immersing myself in vibrant cultures. Expressing myself creatively is something I value; I enjoy writing and photography and sharing my work on Facebook.
At present, I am in a mid-career and mid-life transformation, reassessing both my personal and professional ambitions to discover a deeper sense of satisfaction within the field of medicine. In my free time, I ponder the meaning of life and my contribution to society, which has given me a renewed sense of purpose, compassion and a commitment to continuous improvement in patient care.
For More Information
Connect with Dr. Raniga on Twitter.
View Dr. Raniga's writing and photography on Facebook.
Keep up to date on RSNA member achievements, moves and news by visiting RSNA.org/News.