RSNA 2022 Honorary Member
---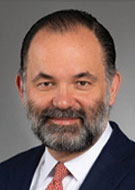 ---
An international authority on breast imaging and intervention techniques, Michael Fuchsjäger, MD, is chair of the Department of Radiology at the Medical University of Graz, Austria, where he has also held professorship since 2012. Previously he served as chair of the Clinical Imaging Institute at Al Ain Hospital in Abu Dhabi, UAE.
"As a radiation oncologist specializing in breast cancer, I am aware of the substantial contributions Dr. Fuchsjäger has made to breast imaging," said RSNA President Bruce G. Haffty, MD. "His contributions to the field of radiology, specifically breast imaging, and to advancing education and research in radiology make him ideally suited as an RSNA Honorary Member."
Dr. Fuchsjäger's academic and clinical interest is primarily focused on breast radiology and intervention, including minimally invasive therapy as well as assessment of 4D blood flow and tissue characterization by cardiac MRI. He has published more than 100 peer-reviewed scientific manuscripts, held over 200 scientific lectures and poster presentations and presented more than 600 educational lectures at the most prestigious radiology conferences worldwide.
Past president of the European Society of Radiology, Dr. Fuchsjäger hosted the 2021 European Congress of Radiology as president and held various committee appointments since 2012. He is also an executive board member of the International Society for Strategic Studies in Radiology and has lent his expertise to numerous radiology organizations serving as an executive board member of the European Society of Breast Imaging and as a board member of the Austrian Society of Senology and the Austrian Roentgen Society.
Dr. Fuchsjäger provides peer review for 20+ scientific journals and has served on the editorial boards of Radiology, European Radiology, Insights Into Imaging, Der Radiologe, The Scientific World Journal and Investigative Radiology.
Dr. Fuchsjäger's many contributions to the field have been recognized with over 100 awards, including the Schering and Wolf-Dieter Sager awards of the Austrian Roentgen Society, Excellence in Imaging and Diagnostics from Arab Health and the Science Award by the city of Vienna honoring his body of scientific research. He received the Radiology Editor's Recognition Award in 2011 and 2012 for providing article review with distinction. He holds honorary membership in the Israel Radiological Society.
Dr. Fuchsjäger received his medical degree from the University of Vienna in Austria and completed his residency at the Medical University of Vienna's Department of Radiology. He completed a post- doctoral research fellowship at the Department of Radiology at Memorial Sloan-Kettering Cancer Center in New York.