Doctor as Patient: Imagining Cancer Survival for All
RSNA 2022 Opening Session
---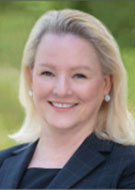 ---
Elizabeth Morris, MD, is professor and chair of the Department of Radiology at the University of California, Davis (UCD) School of Medicine. Dr. Morris graduated summa cum laude from UCD in biochemistry and received her medical degree from the University of California, San Francisco. She completed her residency at Weill Cornell Medical College (WCMC) and a body/breast imaging fellowship at Memorial Sloan Kettering Cancer Center (MSKCC) where she remained on faculty until December 2020 and served as the chief of Breast Imaging Service and the Larry Norton Endowed Chair.
Her research focus is on how best to use newer techniques such as MRI for early breast cancer detection and to improve the workup of breast lesions. Most recently, her research focuses on using imaging biomarkers to assess risk and treatment response. Her research has secured grants from NCI, RSNA, Komen Foundation and Breast Cancer Research Foundation.
Dr. Morris authored a book, Breast MRI: Diagnosis & Intervention. In collaboration with her colleagues, she has written over 230 papers, 40 chapters and five books about breast disease with an emphasis on the use of MRI.
A widely recognized expert in breast imaging, Dr. Morris has lectured both nationally and internationally at over 320 conferences and she has mentored more than 50 international research fellows.
A leader in the field, Dr. Morris is a fellow of the American College of Radiology, Society of Breast Imaging (SBI) and International Society of MR in Medicine (ISMRM). She is past president of the SBI. She is the inaugural Equity Diversity & Inclusion officer of the ISMRM and co-chair of the Women of ISMRM.
A breast cancer survivor herself, Dr. Morris will discuss her experience as a patient and how it has fueled her desire to ensure that patient care is respectful and responsive to each patient's preferences, needs and values.
"Being challenged with my diagnosis and a new job reinforced how radiologists must look beyond who we think a patient is and treat every single patient with kindness and respect," Dr. Morris says.