RSNA 2022 Outstanding Educator
---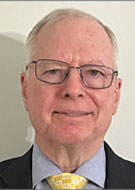 ---
Revered educator Dennis M. Balfe, MD, has mentored countless radiologists during his tenure spanning four decades at Washington University School of Medicine's Mallinckrodt Institute of Radiology in St. Louis.
Currently emeritus professor of radiology at Mallinckrodt, Dr. Balfe began his career there as an instructor in radiology, became a tenured professor in 1992 and served as the radiology residency program director from 1992 to 2006.
"I have had the pleasure of knowing Dennis for nearly two decades, since we both joined the American Board of Radiology Board of Trustees in 2005. It was clear from the first time I met him how dedicated he was to the education and training of radiologists," RSNA President Bruce G. Haffty said. "Through our nearly 10 years together on the ABR Board, and through my experience with Dennis at RSNA and other professional forums, his devotion and commitment to high quality education and training in our profession is most appreciated by all who have benefitted from his leadership and mentorship. He is most deserving of this Outstanding Educator award."
A leader in organized radiology, Dr. Balfe is past president of the Society of Computed Body Tomography and Magnetic Resonance Imaging (SABI) and of the Society of Abdominal Radiology. He also served as chair of the American Board of Radiology Board of Trustees in 2004 and as an oral examiner.
Dr. Balfe was awarded the Residents' Distinguished Teaching Award at Mallinckrodt by his students multiple times throughout his career. He received the SABI Hounsfield Award and American College of Radiology fellowship in 1994. Dr. Balfe was recognized by the Barnes Jewish Hospital with its lifetime achievement award, Distinguished Clinician, in 2016.
For two decades, Dr. Balfe served as associate editor for body imaging of RadioGraphics and he has reviewed articles for several radiology journals including the American Journal of Roentgenology and Radiology.
Dr. Balfe obtained a bachelor's degree at the University of Santa Clara in California and completed his medical degree at the Medical College of Wisconsin in Milwaukee. Following an internship and residency in diagnostic radiology at St. Mary's Hospital in San Francisco, he completed a fellowship in the abdominal section at Mallinckrodt.