Explore More Than 2,500 Posters and Exhibits in the RSNA Learning Center
RSNA 2022 offers a variety of learning opportunities in a wide range of subspecialties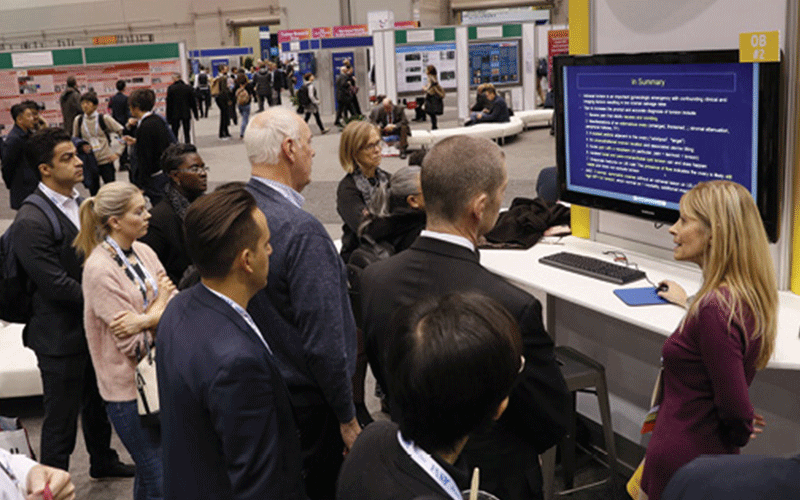 Located in Lakeside Center East, Level 3, the Learning Center is home to thousands of education exhibits, scientific digital posters and quality improvement report posters covering a range of subspecialties.
Scientific posters are grouped and displayed in easy-to-find, color-coded learning communities.
Visit in the morning or during the lunch hour for poster discussions with authors.
Learning Center Schedule
The Learning Center is open daily and all scientific and education exhibits are available for self-study.
Sunday 9 a.m. – 6 p.m.

Monday-Wednesday 7:30 a.m. – 6 p.m.

Thursday 7:30 a.m. – 4:30 p.m.
Digital presentations are available any time to Virtual Access registrants at Meeting.RSNA.org.
Additionally, select authors will be onsite to present their posters and exhibits during the following times:
Sunday 11:45 a.m. – 12:45 p.m.
Monday-Thursday 9 – 9:30 a.m. and 12:15 – 1:15 p.m.
NEW! Learning Center Theater
Join us all week in the new Learning Center Theater to experience presentations on the latest innovative research and translational science. RSNA's Cutting-Edge Research call for abstracts resulted in nearly 90 abstracts covering long COVID, photon counting CT, AI/machine learning and molecular imaging.
Watch 10-minute presentations of these abstracts in the Learning Center Theater, live daily from 9 a.m. to 3 p.m. Access the Learning Center Theater schedule on Meeting.RSNA.org or via the meeting app.
Learning Communities
Scientific posters and education exhibits are grouped and displayed in learning communities to help you identify subspecialty focus areas and plan your time effectively. The Meeting Guide, available onsite, includes a convenient color-coded map of the Learning Center subspecialty locations.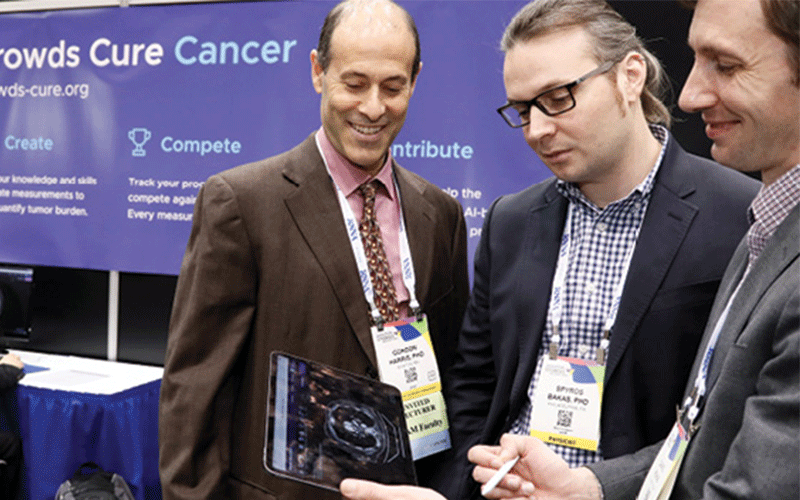 RSNA AI Deep Learning Lab
Attendees looking to deepen their understanding of AI applications are invited to visit the RSNA AI Deep Learning Lab located in the Learning Center.
The Lab features 14 unique sessions developed by RSNA members covering a range of AI topics and skills including several beginner-friendly options. Attendees are encouraged to bring their own devices for hands-on activities and to explore new tools, resources and topics in AI. Refer to the meeting program for daily schedules.
Case of the Day
Case of the Day is presented electronically in the Learning Center and accessible to Virtual Access registrants via the meeting app or Meeting.RSNA.org. Sunday through Wednesday, a new daily case in each of 17 categories will be displayed. Attendees may submit a diagnosis for each case at nearby internet stations, on the electronic presentation system or Meeting Central. For each correct diagnosis submitted, attendees will receive 0.50 AMA PRA Category 1 Credit™.
Also in the Learning Center, challenge your skills with the RSNA Case Collection ™ Case of the Day. This activity is not designated for CME. Learn more about RSNA Case Collection and how you can contribute to a growing resource for radiologists, visit Cases.RSNA.org.
Quality Improvement Report Walkthrough
Join Jonathan Flug, MD, chair of RSNA's Quality Improvement Committee, and other experts in quality improvement (QI) in radiology as they walk through and highlight select QI Reports. Those interested in leading and publishing QI projects will find this especially valuable. The poster walk will be held Wednesday, Nov. 30 at 4:15 p.m. in the Quality Improvement Report section.
RSNA Ripples of Innovation
RSNA empowers our members to try new things, explore possibilities and enhance your career. These touch points create ripples of innovation through the radiology community, boosting individual careers. Stop by this new experience to learn about RSNA publishing and funding opportunities that build careers and make connections for radiologists and radiology trainees.
The Art of Imaging
RSNA welcomes a unique art installation to the Learning Center. This year's Art of Imaging display is the product of a collaboration between two dozen photography and biomedical engineering students who created non-conventional imagery by scanning everything from common household objects to visualizing sound broadcast from an underwater speaker and captured using Doppler imaging.
Accreditation Statement
The Radiological Society of North America (RSNA) is accredited by the Accreditation Council for Continuing Medical Education (ACCME) to provide continuing medical education for physicians.