Training Helps Radiologists Boost CT Colonography Performance
One-on-one interactive training helps sustain diagnostic improvement
BY RICHARD DARGAN
June 14, 2022
---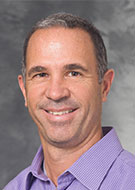 ---
Despite its effectiveness, colorectal cancer screening has been underused, in part because of patient concerns over the invasiveness of optical colonoscopy.
CT colonography (CTC), sometimes referred to as virtual colonoscopy, offers a less invasive alternative that provides similar detection rates to those of optical colonoscopy for high-risk pre-cancerous polyps. However, challenges related to CTC technique and the anatomy of the colon have driven some variation in performance among radiologists.
Andrew A. Plumb, MD, associate professor of medical imaging at University College London and consultant radiologist at University College London Hospital, led a previous study that found that polyp and cancer detection rates differed considerably among hospitals in the English Bowel Cancer Screening Programme.
"Centers with larger volume practices, more experienced radiologists and active 3D interpretation seemed to pick up more cancers and polyps than centers without these factors," Dr. Plumb said.
In the wake of the findings, Dr. Plumb and colleagues designed a new study to assess the impact of training on radiologist performance.
"The 2022 Radiology study was designed to answer two main questions," Dr. Plumb said. "Was there significant variation in radiologist CTC reporting accuracy, and if so, could we increase diagnostic sensitivity by providing focused individualized training and feedback to these radiologists?"
Training Supports Sustained Detection Improvement
The researchers randomized radiologists into two groups. The first group, comprising 80 radiologists, received a day of training in CTC reporting. They practiced at various stations, each focused on a specific topic such as flat lesions, non-neoplastic mimics and fold-related lesions.
"These stations had multiple examples of true lesions and pitfalls, with every station overseen by an expert faculty member who delivered the training in a 1:1 or maximum 1:2 ratio in a very hands-on, interactive manner," Dr. Plumb said.
The remaining 59 radiologists received no training.
Under experimental conditions, the radiologists who received training showed sustained improvement in detection of polyps 6 mm or more in size and cancers compared with the radiologists who received no training. One-month sensitivity improved 20.8% compared with sensitivity in the control group. At one year, the improvement in sensitivity stood at 16.7% compared to the control group.
Flat lesions were more likely to be detected by radiologists who received training. The positive effect of training was not associated with prior CTC career experience.
Dr. Plumb attributed the improved performance to the motivation of the radiologists and the design of the training. Radiologists in the training arm received constant feedback and interaction after the workshop, if desired, with detailed breakdown of their performance relative to their colleagues in the cohort. The training emphasized a standard approach to case navigation with an initial 3D read followed by 2D axial, coronal and sagittal interpretations.
"This kind of reliable, consistent message and approach to case interpretation really seems to minimize perceptual errors," Dr. Plumb said.
Oral Contrast And 3D Detection Can Boost Radiologist Performance
While training is vital to CTC interpretation, other factors must be taken into consideration when seeking to optimize radiologist performance, according to Perry Pickhardt, MD, chief, gastrointestinal imaging from the Department of Radiology at the University of Wisconsin School of Medicine and Public Health and medical director of oncological imaging, UW Carbone Cancer Center, both in Madison.
Dr. Pickhardt, writing in an accompanying editorial, pointed to the use of positive oral contrast material for fluid and stool tagging as being critical to boosting the performance of less-experienced radiologists.
A Department of Defense CTC trial led by Dr. Pickhardt found that the combination of oral contrast material tagging and robust 3D polyp detection delivered excellent diagnostic performance, despite the lack of any prior formal training for the radiologists involved.
"By using this approach in clinical practice, we have found that interobserver variability in the detection of large polyps at CTC screening is much less than the performance spread observed at optical colonoscopy," Dr. Pickhardt said. "With this approach, CTC also dominates over the stool-based tests in both clinical efficacy and cost-effectiveness."
Dr. Pickhardt recommended quality assurance measures to ensure that proper CTC technique becomes a standard component of any widespread CTC screening effort. Outcomes should track relevant colorectal and extracolonic detection rates, interval cancer rates and procedural complications, he commented.
"The value of CTC screening can be further enhanced by leveraging body composition data for osteoporosis and cardiometabolic screening available in every abdominal CT scan," Dr. Pickhardt said.
"The 2022 Radiology study was designed to answer two main questions: Was there significant variation in radiologist CTC reporting accuracy, and if so, could we increase diagnostic sensitivity by focused individualized training and feedback to these radiologists?"
ANDREW A. PLUMB, MD
Translating Training to Clinical Care
Back in the United Kingdom, Dr. Plumb and colleagues are working to expand their training package beyond the research setting to see if its benefits translate to the clinic.
"In the study, we used test datasets where the prevalence of abnormality was between 50% and 60%, which is much greater than in routine practice where only around 20% of scans have a 6 mm or larger polyp," he said. "Also, people may have been particularly rigorous in the study since they knew they were being assessed."
Dr. Plumb's group is also looking for factors associated with variability in missed cancer rates and how these can be minimized.
For More Information
Access the Radiology study, "Colorectal Cancer: Performance and Evaluation for CT Colonography Screening—A Multicenter Cluster-randomized Controlled Trial," and the accompanying editorial, "CT Colonography: The Role of Radiologist Training."
Read previous RSNA News stories on colonography: