RSNA 2021 Outstanding Educator
---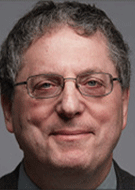 ---
A prolific mentor, author and pioneer for digital learning, Adam E. Flanders, MD, is a professor of radiology and rehabilitation medicine, vice chair of enterprise imaging informatics at Thomas Jefferson University in Philadelphia.
"Dr. Flanders has been a huge contributor to RSNA in so many venues — from neuroradiology to AI and informatics," said RSNA President Mary C. Mahoney, MD. "He has furthered our specialty through service, teaching and research."
Highly regarded among his colleagues and students, Dr. Flanders has spearheaded and collaborated on numerous efforts to enhance radiology education through publications and technology.
Dedicated to serving the profession of radiology, Dr. Flanders was the informatics associate editor for RadioGraphics, and he currently serves on the RSNA News Editorial Board. He has also chaired the Neuroradiology RadLex, Reporting and Medical Imaging Resource Center (MIRC) subcommittees. From 2011 to 2017 he served as chair of the RSNA Radiology Informatics Committee (RIC), actively encouraging radiologists to become involved in the EHR selection processes at their hospitals, advocating for engagement in meaningful use initiatives and championing the development of robust electronic teaching files, ultimately leading to the development of the RSNA Case Collection. He also chaired the RSNA Digital Roadmap Steering Committee. Dr. Flanders participated in and co-authored the "Digital Roadmap" for the National Institutes of Health/RSNA/American College of Radiology (ACR)/The Academy Workshop on Artificial Intelligence in Medical Imaging, identifying and prioritizing needs for academic research laboratories, professional societies and industry. He has also helped to facilitate several neuroimaging-based AI Challenges for the RSNA Machine Learning Subcommittee in collaboration with the American Society of Neuroradiology (ASNR) in 2019 and 2021.
Dr. Flanders is a past president of the American Society of Spine Radiology (ASSR). He has served in multiple roles for the ASNR, including as chair of its Rules Committee and as deputy editor for NeuroGraphics. He contributed expertise to the ASNR informatics programming, standards and guidelines and in the ASNR AI Committee workshops. He now chairs the ASNR Common Data Elements (CDE) workgroup in collaboration with the ACR and RSNA. He works with the Society of Informatics in Medicine (SIIM) in the program committee, and in 2013 he was named a SIIM Fellow for his contributions to imaging informatics.
Dr. Flanders earned his medical degree in 1983 from Rush Medical College in Chicago and he completed a residency in diagnostic radiology at the University of Illinois Medical Center, where he served as chief resident in 1986. After completing a fellowship in neuroradiology at Thomas Jefferson University, he joined the Jefferson faculty.
At Jefferson, Dr. Flanders chairs the Imaging Informatics Council for its Enterprise Radiology and Imaging Service Line. He is also actively involved with the Regional Spinal Cord Injury Center of the Delaware Valley (RSCICDV). His research projects and lectures are extensively devoted to advancing the role of MR imaging in evaluation of spinal cord injury. Early in his career, Dr. Flanders was awarded an RSNA Research Scholar Grant for his research into using MRI to assess acute spinal cord injuries. He subsequently received funding from the Department of Defense (DoD) to evaluate the utility of diffusion tensor imaging (DTI) in forecasting neurologic recovery after spinal cord injury. He has authored or co-authored over 175 peer-reviewed publications, three books and 30 book chapters, and he has delivered more than 100 presentations at medical imaging conferences on topics including advanced neuroimaging in assessment of spinal cord disease, practical informatics, digital libraries and tools for enhancing trainee education and integrated PACS-based solutions for improving the radiology peer review process.