RSNA 2021 Honorary Member
---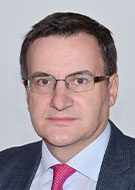 ---
Hailed for establishing a lifesaving breast cancer screening program in his native Croatia, Boris Brkljačić, MD, PhD, is chair of radiology at University Hospital Dubrava, Zagreb, and vice dean, full professor and chair of radiology cathedra at the University of Zagreb School of Medicine (UZSM).
"I have known and worked with Dr. Brkljačić for many years as a fellow breast imager," said RSNA President Mary C. Mahoney, MD. "His contributions and leadership in radiology have been invaluable."
Among Dr. Brkljačić's research interests are Doppler ultrasound for exploring vascular flow in kidney disease, head and neck pathology, and peripheral arterial disease. He has also fine-tuned methods for breast imaging, notably introducing BI-RADS to Croatia, a country where mortality from breast cancer has been consistently dropping since the screening program was established in 2006.
Internationally sought after as a lecturer, Dr. Brkljačić also teaches at Hebrew University in Jerusalem and at the University of Iceland in Reykjavik. He has presented more than 450 invited lectures around the world.
Dr. Brkljačić earned his medical degree from UZSM in 1988, followed by a radiology residency in Zagreb and fellowships in the United States, including at Thomas Jefferson University Hospital in Philadelphia and the Memorial Sloan-Kettering Cancer Center in New York. He developed an interest in breast and urogenital imaging as well as vascular and interventional radiology, going on to earn a Master of Science degree and PhD from UZSM.
In addition to his critical work as head of the Radiology Advisory Board of Croatia's Ministry of Health for the National Breast Cancer Screening Programme, Dr. Brkljačić has served in numerous influential leadership positions, including vice president of the Croatian Medical Association, president of the Croatian Society of Ultrasound in Medicine and Biology, and president of the Croatian Society of Radiology from 2008 to 2012.
Additionally, Dr. Brkljačić has lent his leadership to societies across Europe and internationally. He served on the executive council and board of directors of the European Society of Radiology and is the immediate past president. He is also secretary general for the International Society of Radiology and serves on the board of the International Society for Strategic Studies in Radiology.
Dr. Brkljačić has been recognized for excellence in his teaching and research throughout his career. Most recently, he was presented the Andrija Štampar Award from the University of Zagreb in 2020, honoring his dedication to research and mentoring young professionals in the biomedical sciences. He has been named honorary fellow of the European Federation of Societies of Ultrasound in Medicine and Biology and is an honorary member of 10 international radiology societies.