RSNA 2021 Meeting Experience
No matter how you experience RSNA 2021 – in-person or virtually – the information here will help you navigate the meeting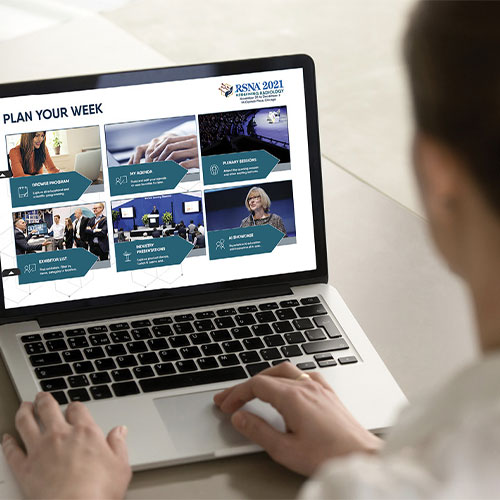 RSNA 2021: START HERE
This year, the RSNA Board of Directors was committed to delivering an in-person annual meeting and promoting opportunities to reconnect while never losing focus on the health and safety of all participants. To provide accessibility to attendees worldwide, RSNA developed a hybrid meeting structure balancing the in-person experience with a robust virtual component.
Whether joining in-person, virtually or both, attendees can expect an immersive experience networking with peers and engaging in more than 450 combined education and science sessions, 2,500 scientific posters and educational exhibits, and 500+ exhibitors featuring the latest medical imaging innovations and solutions. Attendees with hybrid and Virtual Meeting registration will have access to all programming offered on-demand through April 30, 2022.
Planning Your Week
This year, Meeting Central (Meeting.RSNA.org) opens for preview Nov. 1. The site is mobile optimized, taking the place of the meeting app and allowing instant access to programming using a range of handheld devices. Bookmark the site on all your devices for quick access throughout the meeting.
The intuitive platform design makes it easier than ever to plan your annual meeting experience, view the daily schedule, browse sessions, review industry presentations and build your agenda.
Begin by logging into Meeting Central using your RSNA user name and password. Remember to opt-in if you would like your contact information made public for networking. Then, use the Browse Program, Plenary Sessions, Industry Presentations and AI Showcase options to view meeting programming, "favorite" interesting speakers, sessions and events or add specific items to your agenda. Favorited items and your agenda can be accessed before and during the meeting. You can also join live events from your agenda.
You can also use the Exhibitors List to search for exhibits and contacts for scheduling networking opportunities.
Health and Safety at the In-Person Meeting
To ensure the safety of everyone in attendance at the annual meeting, RSNA is requiring proof of full COVID-19 vaccination from all meeting attendees, staff and exhibitor personnel prior to admittance into McCormick Place. Acceptable vaccinations are those with U.S. Food & Drug Administration (FDA) or World Health Organization (WHO) approval or emergency use authorization. Before the meeting, all participants will be required to complete vaccination verification via a free, downloadable app, CLEAR, for domestic participants or the website, Safe Expo, for international participants.
McCormick Place has enhanced its cleaning protocols and added safety measures like touch-free doors, improved air quality, hand sanitizing stations and entry and exit processes to provide a safe environment.
Face masks will be required in all public indoor places, including RSNA-provided shuttle buses, Metra trains, rideshares, etc., regardless of the status of mask mandates outside of RSNA 2021. All participants are encouraged to practice good hygiene and refrain from entering McCormick Place if you are feeling unwell or experiencing COVID-19 symptoms.
RSNA will offer two onsite COVID-19 testing options during RSNA 2021:
• Rapid Antigen, for attendees who are feeling unwell. Results provided within 15 minutes.
• Rapid Molecular, for attendees who require a negative COVID-19 test for travel or to return to work. This test satisfies most country and airline requirements for travel.
Appointments can be scheduled in advance at RSNA.org/Covid-Testing. Walk-ins are also welcome. Please note, there may be a minimum fee required for testing.
Refer to the Health & Safety information at Meeting.RSNA.org for additional details.
An Extensive Virtual Experience
The Virtual Meeting extends the RSNA 2021 experience beyond the meeting walls. All attendees who register for virtual access will be able to view content online via livestream and on-demand with 100% of eligible meeting programming available through April 30, 2022. For the best overall meeting experience, register for both in-person and Virtual Meeting access.
All RSNA 2021 attendees (in-person and virtual) have access to the Virtual Exhibition through Meeting Central. Before the Technical Exhibits officially open at 10 a.m. CT on Sunday, Nov. 28, you can use the Virtual Exhibition site to explore and search exhibitor listings and use filters to narrow your selection.
Filter by featured and virtual exhibitors, product category, state, country or exhibit pavilion. You can also view an alphabetical listing of exhibitors and booth numbers or browse a product gallery and filter by a variety of feature categories to help target your search. View the exhibitor list to plan your participation.
Take time throughout the week to explore the Virtual Exhibition and use the platform to participate in interactive demos and group chats and connect with hybrid and virtual-only exhibitors to learn about their latest products and services.
Making Connections
The return to Chicago means a return to in-person connections and networking opportunities with colleagues and industry professionals. It also means facilitating connections via Meeting Central and through the Virtual Exhibition.
From the meeting site home page, select Networking to search for other attendees or company representatives. You can leave a message or schedule an online meeting.
Computers will be available at internet stations throughout McCormick Place to access Meeting Central (Meeting.RSNA.org) for the most current meeting and exhibitor information.
Free Wi-Fi
Free wireless connectivity is available throughout McCormick Place. Please note: the wireless networks are not secure and should not be used for sending sensitive information. Visit RSNA.org/Annual-Meeting for the most up-to-date information about RSNA 2021.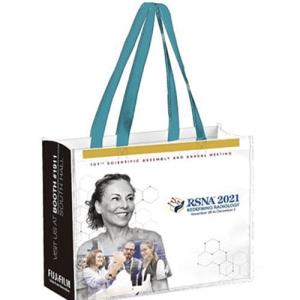 Meeting Materials
Health & Safety Checkpoint/ Badge Pickup
Attendees are encouraged to complete their registration in advance online at RSNA.org/Register or at designated registration areas in McCormick Place (see below). Badges will not be mailed in advance and should be picked up at any of the two designated registration locations in McCormick Place. A valid photo ID and proof of COVID-19 vaccination are required. To avoid long wait times, please complete vaccination validation prior to arriving at McCormick Place.
Your badge serves as a virtual business card and is encoded with demographic information you provided during registration. Upon request, exhibitors who have lead retrieval may scan your badge to access your contact information.
Registration/ Badge Pickup Locations
South Building, Level 1, Room S100
Friday....................... 8 a.m. to 4:30 p.m.
Saturday–Thursday........ 7 a.m. to 5 p.m.
Lakeside Center East Building, Level 2, Hall E
Saturday–Thursday ....... 7 a.m. to 5 p.m.
Ribbon Pick Up
All badge ribbons for committee, council or group work will be available for pickup during the meeting at the Ribbon Wall located in the Connections Center.
Official Meeting Bag and Meeting Guide
Attendees can pick up the official meeting bag and Meeting Guide at the self-serve distribution areas located in the Lakeside Center East, Level 2 and Grand Concourse, Level 3. Please note, the full program is available online only.
The RSNA 2021 Meeting Guide is an easy-to-use reference guide to course and event information, floor plans at McCormick Place, transportation and dining. You may also use the online program at Meeting.RSNA.org to find presentations and build your agenda.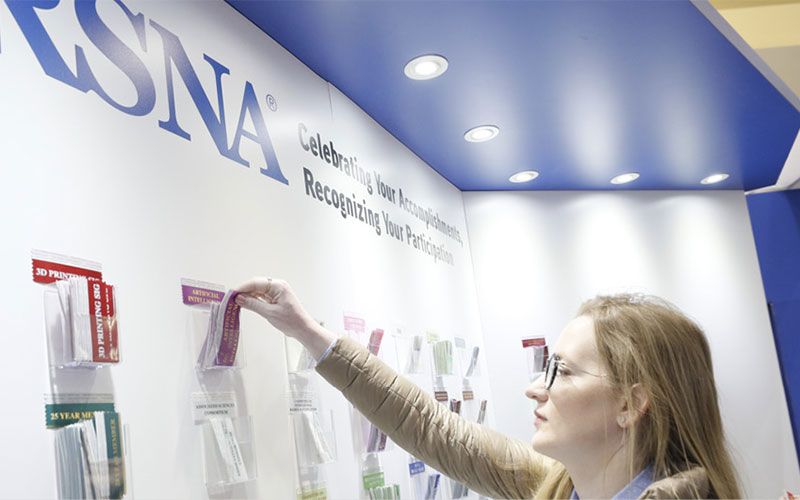 Record of Attendance/Credit Claiming
Registrants will be able to access the self-service credit claim site from the RSNA 2021 meeting site and RSNA.org/Register. There you can review and adjust credit for education sessions attended, complete session evaluations and print and save your credit certificate or record of attendance.
Hybrid and Virtual registrants can maintain extended access beyond the week of the live meeting, through April 30, 2022, to view and earn additional on-demand credits. Attendees will have access to the credit claiming site through April 30, 2023, in order to print their CME certificate or Record of Attendance.
For assistance with your attendance and credit claiming questions, visit the Information Desk in the Connections Center or the Grand Concourse.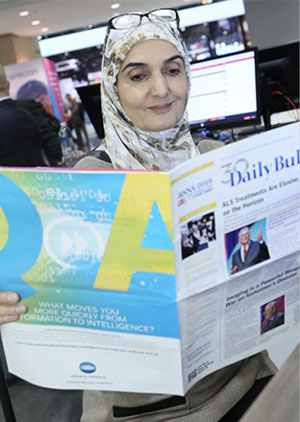 KEEPING ATTENDEES INFORMED
Daily Bulletin
Stay in-the-know about all RSNA 2021 news and events through the print and online versions of the Daily Bulletin, the official newspaper of the RSNA annual meeting. Read featured news from the meeting and must-see events and opportunities in this publication available in bins throughout McCormick Place.
Digital Daily Bulletin is available at RSNA.org/Bulletin. There you will find exclusive online content, get an early look at articles ahead of print, view video interviews and participate in interactive quizzes and polls. Get alerts on Daily Bulletin stories through social media at #RSNA21, on Facebook (Facebook.com/RSNAfans), Instagram (RSNAgram) or Twitter (@RSNA).
Help Onsite
Need assistance? Visit one of our Information Desks in the Grand Concourse, Level 3 or in the Connections Center, Lakeside Center East, Level 3 where RSNA staff can assist with general information.
Attendees can reserve RNSA 2022 hotel rooms at the Information Desk in the Grand Concourse.
International Services Help Onsite
The official language of the RSNA annual meeting is English, but limited translation assistance is available. Visit the Information Desks for additional information and assistance.
Register for the RSNA 5k Fun
Run Jog, run, walk or wheel to benefit the RSNA R&E Foundation during this popular annual meeting event. The Foundation funds grants and awards to individuals who advance radiologic research, education and practice.
Register now for the event on Tuesday, Nov. 30 at 6:30 a.m. at Arvey Field, South Grant Park, Chicago. The registration fee is $50. All registration fees are considered a donation and are nonrefundable. Register at RSNA.org/Fun_Run.
Dig Into Dining Options
Chicago is home to a wide variety of eating options to suit any dining needs. Right inside the walls of McCormick Place, you will find a tasty selection of midday dining options that provide ample seating and give you an opportunity to relax and network with colleagues and friends.
McCormick Place also has other popular options for meals and refreshments including Starbucks, Connie's Pizza, McDonald's, 23rd Street Café & Market and Lakeside Café. You'll also find beverage and food carts throughout McCormick Place.
Bistro RSNA
This buffet-dining experience offers an extensive gourmet menu. Open Sunday through Wednesday from 11 a.m. to 2:30 p.m., Bistro RSNA has two locations in the Technical Exhibit Hall in both the North and South Buildings, Level 3. Advance Bistro Tickets are $27 per meal and can be purchased at RSNA.org/Register.
For More Information
Register for the meeting at RSNA.org/Annual-Meeting.
Review the RSNA 2021 Program at RSNA2021.RSNA.org.
Read RSNA News stories about RSNA 2021: