Meltzer Receives AMA Distinguished Service Award
Recognized for her research into neuropsychiatric disorders and social advocacy work
---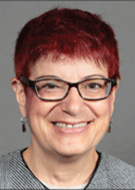 ---
The American Medical Association (AMA) presented Carolyn C. Meltzer, MD, with the Distinguished Service Award. Established in 1938 as one of the AMA's highest honors, the Distinguished Service Award is presented for meritorious service in the science and art of medicine.
Dr. Meltzer was chosen by the AMA as an exceptional scholar whose cross-disciplinary imaging research advanced the neurobiological understanding of neuropsychiatric disorders that disproportionately affect women, such as late-life depression and Alzheimer's disease. Her functional imaging study validated the effects of normal aging on the brain's serotonin neurotransmitter system and evaluated the role of neurochemical mechanisms in age-related neuropsychiatric disease.
As a catalyst for diversity, equity and inclusion, Dr. Meltzer has promoted social justice as a necessary element for sustained excellence in health care. Her expertise in implicit bias and systemic organizational biases that disadvantage underrepresented gender, ethnic and minoritized groups in medicine has inspired and benefitted many.
Dr. Meltzer is currently the William P. Timmie Professor and chair of the Department of Radiology and Imaging Sciences, executive associate dean of faculty academic advancement, leadership and inclusion and chief diversity and inclusion officer at Emory University School of Medicine, Atlanta. She also serves on the board of the Emory Clinic and the Emory Medical Care Foundation.
At RSNA, Dr. Meltzer is the Board of Directors liaison for science. Dr. Meltzer was named the inaugural chair of RSNA's Committee on Diversity and Inclusion in 2018. She is a former chair of RSNA's Quantitative Imaging Biomarkers Alliance (QIBA) task force and of the Research Development Committee.
She serves on the American College of Radiology (ACR) Commission for Women and Diversity and the Steering Committee of the Association of American Medical Colleges Group on Women in Medicine and Science.
Dr. Meltzer is a past president of both the American Society of Neuroradiology and the Academy for Radiology and Biomedical Imaging Research. Reflective of her commitment to academic medicine, Dr. Meltzer has held numerous national leadership roles and served on professional and advisory boards, including the advisory council for the National Institute for Biomedical Imaging and Bioengineering, the ACR board of chancellors, the Association of University Radiologists Board of Directors, and the International Society of Strategic Studies in Radiology Executive Committee. She served as inaugural chair of the ACR Commission on Research. She serves on the board of directors, as president-elect of the Society of Chairs of Academic Radiology Departments.
Highly awarded for her outstanding leadership in research and education, Dr. Meltzer received the Outstanding Contributions in Research Award in 2016 and a gold medal in 2019 from the American Society of Neuroradiology. In 2018, she was recognized as the RSNA Outstanding Researcher and was awarded a gold medal from the Association of University Radiologists.
For More Information
Read Dr. Meltzer's previous RSNA News My Turn columns on diversity, equity and inclusion: