My Turn: The RSNA Committee on Diversity and Inclusion Gets Off to a Strong Start
BY CAROLYN C. MELTZER, MD
November 07, 2019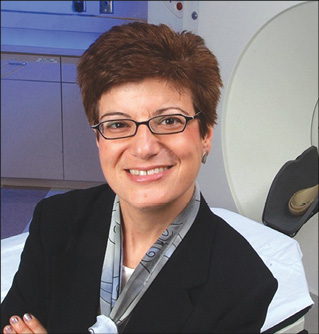 Radiology is a field that embraces innovation and is continuously evolving in ways we may have never imagined. The strength of our future depends on both attracting talented and creative minds to our field and providing a welcoming and nourishing environment, inviting a breadth of ideas and perspectives.
Yet radiology ranks 17th for female and 20th for underrepresented minority representation among the 20 largest training programs, according to the Association of American Medical Colleges. Thus, there is much work to do to in order to achieve our vision of the strongest future for our specialty.
Intentionally working to provide a diverse, equitable and inclusive home for all who are drawn to radiology is required. RSNA has stepped up. Recently the Board added "Inclusion" to the RSNA Core Values and further added a clear goal to the Society's updated Strategic Plan: "RSNA will promote diverse representation within the profession and ensure diversity in RSNA leadership." At RSNA 2018, the Committee on Diversity and Inclusion (CDI) was formed and charged with evaluating RSNA's activities and setting bold recommendations for raising awareness of the importance of diversity and inclusion in the profession, promoting outreach and mentorship, and identifying resources for developing strategies and disseminating best practices.

As an unconscious bias trainer, I have come to deeply appreciate the value of shedding light on our shared human cognitive biases. It is powerful to gain an understanding of how psychological bias can undermine the most well-planned efforts at fostering a diverse and inclusive workplace – and often without us realizing it.

"The strength of our future depends on both attracting talented and creative minds to our field and providing a welcoming and nourishing environment."
Carolyn C. Meltzer, MD
"Affinity bias," for example, is the natural human tendency to gravitate toward those who remind us of ourselves, such as those who have shared interests, backgrounds and experiences. This may play out especially prominently in unstructured recruitment interviews, in which the conversation may drift to topics that have little to do with the eligibility criteria for the position. Unconscious biases also tend to impact our behaviors most strongly when we are stressed and/or under time pressure, features that are ever-present in the health care environment.

The good news is that there are proven, effective strategies for interrupting bias assumptions and thus making real progress in building a more diverse and inclusive specialty.
I'm delighted that RSNA 2019 includes a variety of opportunities to learn about unconscious bias, including a session in the Discovery Theater on Monday afternoon and an educational course on Thursday morning. Other sessions will explore issues of cultural competency and multigenerational communication, barriers to recruitment and professional development of women (see sidebar).
I am especially excited about the Discovery Theater #WeAreRadiology panel developed by the Resident and Fellow Committee's Diversity and Inclusion Subcommittee (under the leadership of Dania Daye, MD, PhD). Be sure to use the Twitter hashtag #WeAreRadiology while at the meeting to show your support!
It is also worth noting that the high frequency of gender-based harassment in medicine has received attention through the 2018 National Academy of Sciences, Engineering and Medicine report on the Sexual Harassment of Women and grassroots efforts such as #TIMESUp Healthcare (www.timesuphealthcare.org/). Consistent with the National Academy's report findings, a recently published study at my own institution showed that nearly 60% of women faculty have witnessed harassment. This will be an important topic of discussion at RSNA 2019 and beyond.
In addition to programming at the annual meeting, the Committee on Diversity and Inclusion will be undertaking several ambitious year-round initiatives. We are working with RSNA staff to collect multi-dimension data on our membership to include gender identity and ethnicity/race. If you see an email from RSNA asking for your input on these parameters, please take a moment to update your account information. This will allow us to best serve our membership.
RSNA is proud of our record of promoting women into leadership. In the past ten years the proportion of women on the RSNA Board of Directors has slightly exceeded the gender distribution of our membership, and RSNA committee chairs' and members' gender has mirrored our membership. The CDI will continue working with staff and volunteers to ensure participation and leadership in the Society continues to reflect our membership. Yet, as in most professional medical societies, our analysis has shown that women remain underrepresented among recipients of the most prestigious speakerships and awards, so there are still improvements to be made.
A promising new commitment by the R&E Foundation Board of Trustees will contribute to RSNA's focus on diversity throughout the organization. Beginning with the 2020 grant application cycle, the Foundation will award up to ten additional Research Medical Student Grants per year to underrepresented minority students. The Committee on Diversity and Inclusion will help to monitor the success and impact of such programs to strengthen diversity in radiology.
For More Information
Access the AAMC Report, The State of Women in Academic Medicine: The Pipeline and Pathways to Leadership, 2013-2014, at aamc.org.
Access the study, You have to be twice as good and work twice as hard: a mixed-methods study of perceptions of sexual harassment, assault and women's leadership among female faculty at a research university in the USA, at doi.org/10.1017/gheg.2019.5.