My Turn: Have We Reached a Tipping Point?
The volatile mix of a pandemic and systemic racism
BY CAROLYN C. MELTZER, MD
June 09, 2020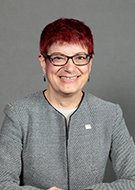 On June 5, 2020, thousands of physicians and other health care workers across the U.S. kneeled in silence for 8 minutes, 46 seconds in remembrance of the tragic death of George Floyd at the hands of police in Minneapolis. The #WhiteCoatsForBlackLives event occurred during a period of sustained worldwide protests against systematic racism and its role in Mr. Floyd's killing, as well as the recent shooting deaths of Breonna Taylor (in her Louisville home) and Ahmaud Arbery (while jogging in Georgia). We have seen protests in the past, such as those in Baltimore after Freddie Gray sustained fatal injuries to his neck and spine while in transport in a police vehicle in 2015. Is this time different?
The COVID-19 global pandemic has laid bare the horrible toll of institutionalized racism underlying health disparities. In my own home state of Georgia, which has a diverse population that is approximately 31% African American/Black and 10% Hispanic/LatinX (based on 2018 U.S. Census data), 80% of the COVID-19 hospitalizations in March were African Americans, according to a white paper published by Morehouse School of Medicine in Atlanta. This is likely due to a complex interplay of multiple factors including limited access to health care resources; common underlying risk factors of hypertension, diabetes, and obesity; and the home and work settings disproportionately experienced by black and brown persons that lack the capacity for social distancing. This situation runs counter to the social pact of physicians to support the health and healing of all in our communities.
The devastation wrought by COVID-19, the resulting economic downturn — which has further disproportionately impacted persons of color — and a spate of videoed (and thus widely witnessed) extreme acts of racial injustice have proved to be a volatile cocktail. As medical professionals, hearing the phrase "I can't breathe," sends us running toward the person in need. This powerful phrase has taken on another connotation in our society in which it has too often foretold the unjust taking of a human life based on racial injustice. RSNA has been clear in its support of the African American community: "The unjust treatment of people of color must stop."
History has taught us that progress in social justice occurs along a course of slow evolution peppered with transformational events that accelerate our collective action. Such "tipping point" moments occur when there is a confluence of social factors that lead to the formation of a critical mass within a committed sector. We have previously seen such pivotal momentum in social justice issues relating to sexual harassment (#MeToo) and LGBTQ+ rights.
The current moment may provide accelerant for tearing at the fibers of systemic racism. The protests for social justice that we now see throughout the U.S. are not minority protests but rather comprised of broad constituencies calling for change. And physicians lending their social stature (which has achieved "hero" status in the COVID era) is a powerful variable.
RSNA has made its diversity and equity commitment central to its strategic plan. And, the RSNA Committee on Diversity and Inclusion is boldly calling on each of us to join forces in this journey. There is much work to do, both in our world and in our field, to achieve the equity needed for a better future for us all.
We should do better. We must.