Innovations Abound at RSNA 2020 Virtual Exhibition
Virtual format connects attendees with exhibitors in exciting new ways
BY JENNIFER ALLYN
September 25, 2020
---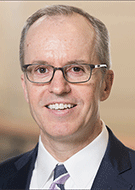 ---
While RSNA's annual meeting Technical Exhibition is always the ideal setting to discover the latest in medical imaging, this year's virtual format will make it even easier for attendees to explore the latest products, services and supplies and engage with industry experts during RSNA 2020.
Annual meeting attendees will have ample opportunity to connect with exhibitors and discover the latest innovations in equipment and software in the RSNA 2020 Virtual Exhibition.
"Our technical exhibition has always been a huge draw for attendees, and we appreciate the technological advances and innovative solutions our exhibiting companies bring to the RSNA meeting each year," said Curtis P. Langlotz, MD, PhD, RSNA Board liaison for information technology and annual meeting.
This year, RSNA transitioned to a completely virtual meeting to be held from Nov. 29 to Dec. 5. For all seven days of the annual meeting, exhibitors will staff their virtual booths, offering a variety of networking tools — from live chats to video conferencing — to help attendees connect with exhibitors in exciting new ways.
"This virtual event, just like our meeting every year, will enable our industry partners to showcase products that help our attendees enhance their practices and improve patient care," Dr. Langlotz said.
Attendees can also virtually access popular RSNA attractions including the AI Showcase, AI Theater and Innovation Theater.
Easy Navigation Offers Complete Access to Exhibits
The RSNA 2020 Virtual Exhibition will house an expansive lineup of content from the leading vendors who advance the medical imaging technology that improves patient care. Attendees can access the virtual exhibits 24 hours a day starting Nov. 29 through Dec. 5. Along with connecting via social media and live chat, attendees can schedule one-on-one virtual meetings with exhibitors to learn about their products. Those without time to connect with exhibitors at the meeting can leave a virtual "business card" to schedule time afterward.
Attendees can also access the virtual Innovation Theater for 15-minute, exhibitor presentations that showcase the latest innovations in medical imaging.
RSNA AI Showcase
State-of-the-art artificial intelligence (AI) solutions will be featured in the AI Showcase, a virtual collection of AI software and product demonstrations available during RSNA 2020.
The AI Showcase will connect attendees with industry leaders to explore the possibilities of AI. The AI Theater will offer on-demand presentations about the AI innovations that are fueling the future of imaging. Each 15-minute presentation will give attendees topline information to learn about the latest AI products and solutions. A complete list of AI Theater presentations will be available at RSNA.org/ Exhibits. The AI Showcase is sponsored by Canon Medical, Nuance Communications and Zebra Medical Vision.
The winners of the 2020 AI Challenge will be announced during the meeting in the AI Showcase. The 2020 RSNA-STR Pulmonary Embolism Detection Challenge, organized in collaboration with the Society of Thoracic Radiology (STR), is designed to train machine learning algorithms to detect and characterize instances of pulmonary embolism. A dataset of over 12,000 CT studies was collected from five research centers based on four different continents.
RSNA 2020 will also include an Imaging AI in Practice demonstration. The multi-vendor interoperability demonstration showcases new technologies and new communications standards needed to integrate AI into the diagnostic radiology workflow. Using real-world clinical scenarios, the demonstration will show how AI can be used to support improvements in patient care.
Daily Dedicated Exhibitor Time
Select exhibitors will offer virtual product demonstrations with unique presentations that will mimic in-booth product presentations and product launches. Exhibitor demonstrations will be held daily from 9 a.m. to 6 p.m. Central Time (CT) and may include a live Q&A with company representatives. The demonstrations will also be available on demand. A schedule of the exhibitor demonstrations is available at RSNA.org/Exhibits.
Each day, RSNA 2020 will feature a dedicated Industry Hour from noon to 2 p.m. CT, where attendees can interact with the virtual exhibition and participate in industry educational presentations to learn about the latest research and innovations. RSNA will not present education sessions during this time. Industry presentations will be held each day in formats including panel discussions, virtual demonstrations or lectures with company leadership and medical professionals. The sessions will also be available on demand.
And RSNA events extend beyond official meeting hours. Watch your email and RSNA social media for announcements of before- and after-hour exhibitor events such as virtual happy hours, round table discussions, breakfast presentations and live Q&As, all designed to help you learn about and connect with exhibitors.
Virtual Assistant Offers Help 24/7
Located on the RSNA 2020 homepage, the RSNA 2020 Virtual Assistant will provide answers 24/7 to help attendees navigate the annual meeting and Virtual Exhibition. The tool helps attendees find sessions, identify exhibits, connect with other attendees and can assist with questions outside of meeting hours. The Virtual Assistant is sponsored by Change Healthcare.
For More Information
Access the RSNA 2020 Technical Exhibits at RSNA.org/Exhibits.
Register and learn more about RSNA 2020 at RSNA.org/Annual-Meeting.