---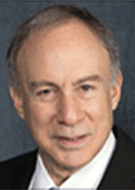 ---
Ronald L. Arenson, MD, is a renowned leader, educator and researcher who led the early implementation of picture archiving and communication systems (PACS) in radiology.
Dr. Arenson earned his medical degree from New York Medical College in 1970. After completing his internship at Beth Israel Medical Center in New York and his diagnostic radiology residency at Massachusetts General Hospital in Boston, he served in the U.S. Navy at the National Naval Medical Center in Bethesda, MD.
Dr. Arenson began his academic career at the University of Pennsylvania in 1976, where he ascended to professor of radiology and served as radiology section chief of operations, associate chair of clinical services and interim vice provost for information systems and computing during his tenure.
Joining the faculty of the University of California, San Francisco, (UCSF) in 1992, Dr. Arenson was the Alexander R. Margulis Distinguished Professor & Chairman in the Department of Radiology and Biomedical Imaging until retiring in 2017. His research focused on the applications of computer technology to imaging and he implemented PACS technology at UCSF when many institutions were still using analog imaging systems. During his tenure he was a sought-after mentor to medical students, residents and fellows, and he spearheaded an innovative junior faculty mentoring program.
Dr. Arenson has authored or co-authored over 120 peer-reviewed scientific articles and several books, including Practical Guide to Leadership and Management in Academic Radiology. He has also served on the editorial boards of Radiology, Investigative Radiology, Journal of Digital Imaging, Academic Radiology and Journal of the American College of Radiology.
A past president of RSNA, Dr. Arenson also served as Board liaison for annual meeting and technology. He is a past president of the Association of University Radiologists (AUR), the Society of Chairs of Academic Radiology Departments (SCARD), the International Society of Strategic Studies in Radiology (IS3 R), and the Academy of Radiology Research (ARR). Dr. Arenson was a founding member of what is now the Society for Imaging Informatics in Medicine (SIIM). He served on the National Advisory Council of the National Institute of Biomedical Imaging and Bioengineering of the National Institutes of Health (NIH) and on the NIH Council of Councils. Dr. Arenson currently serves on the R&E Foundation Board of Trustees, as a docent at the California Academy of Sciences in San Francisco, and as a consultant for several startup companies in the San Francisco Bay area.
Well recognized by his peers for his contributions to the profession, Dr. Arenson was awarded the New York Medical College Alumni Medal of Honor in 2001 and gold medals from AUR, IS3 R, and ARR. He has received the Innovation and Leadership Award from the Radiology Research Alliance, the Visionary Leadership Award from the Society of Chairmen of Academic Radiology Departments, the Holly Smith Award for leadership from UCSF and the UCSF Health Leadership Award. Dr. Arenson holds honorary membership in the European Society of Radiology and is a fellow of the American College of Medical Informatics, American College of Radiology, SIIM, and the Society for Computer Applications in Radiology.