Annual Oration in Radiation Oncology
Imagers and Images: My Friends; My Indispensable Guide
Wednesday, Dec. 2, 11 a.m. CT
---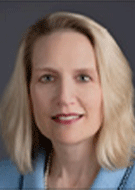 ---
Beth Erickson, MD, an internationally recognized expert on the treatment of gynecologic and gastrointestinal cancers, says diagnostic imaging is essential to successfully designing and delivering radiation therapy.
In her lecture, Dr. Erickson will explore the close relationship of diagnostic radiology and radiation oncology since their evolution from a single specialty. Though often working apart, diagnostic radiologists and the images they interpret and share, are fundamental to the success of radiation therapy, she says.
"Radiation oncologists remain essentially and integrally aligned with diagnostic radiologists in a mutual quest to cure cancer," Dr. Erickson said. "Imagers and the images they analyze are an extraordinary resource for which radiation oncologists and their patients remain ever grateful."
Dr. Erickson is a tenured professor in the Department of Radiation Oncology at the Medical College of Wisconsin (MCW) in Milwaukee, where she completed medical school and residency. She is chief of Brachytherapy Services at MCW and treats patients with gastrointestinal, gynecologic, and eye and orbital cancers.
Dr. Erickson has a great interest in MR-guided radiation and currently chairs the tumor site group for pancreatic cancer for the international MR-Linac Consortium. She has served as a board member and is a past president of the American Brachytherapy Society (ABS) and is the section head editor of the gynecologic oncology section for the society's journal, Brachytherapy. She has also been involved in the ABS GYN Brachytherapy School since its inception in 1995. Dr. Erickson served as vice chair of the Cervix Committee for the Patterns of Care and QRRO Studies and was chair of the ACR Practice Guidelines for the performance of high dose rate and low dose rate brachytherapy.
An active member of the American Society for Radiation Oncology (ASTRO), Dr. Erickson was recently elected to the ASTRO board of directors as Education Council vice chair. She served as a member and co-chair of the RSNA Oncologic Imaging and Therapies Task Force. She is a former trustee of the American Board of Radiology and served on the Residency Review Committee for Radiation Oncology.
In recognition of her contributions to the field, ABS honored her with the Ulrich Henschke Award in 2014, and MCW named her Alumnus of the Year in 2019.