O. Wayne Houser, MD, Dies at 90
Former RSNA president and Gold Medal recipient had a long history of leadership
---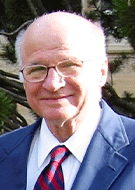 ---
Former RSNA president and internationally acclaimed neuroradiologist, O. Wayne Houser, MD, died on April 16 in Rochester, MN. He was 90.
Dr. Houser received his medical degree from Baylor University, Waco, TX, and completed his internship at Henry Ford Hospital, Detroit. He was in private practice until entering the U.S. Air Force for two years, stationed in Keflavik, Iceland, and Carswell Air Force Base, Fort Worth, TX. Following his service, Dr. Houser completed his diagnostic radiology residency at Mayo Graduate School of Biomedical Sciences, Rochester.
He spent his entire career at Mayo Clinic where he was a professor emeritus. He retired in 1994.
Dr. Houser had a long history of leadership in RSNA. He chaired numerous committees, including the Committee on International Relations, Corporate Relations, the Publications Council and the Refresher Course Committee. He joined the RSNA Board of Directors in 1986 and served as the liaison for publications. In 1994, Dr. Houser served as RSNA president.
A longtime supporter of the RSNA R&E Foundation, Dr. Houser joined the Board of Trustees in 1992 and served as chair in 1997. He and his wife Elizabeth are Sapphire Visionary donors. For his work with RSNA, Dr. Houser was awarded the Gold Medal in 1999.
He is a former president of the American Society of Neuroradiology and received its gold medal in 2001. He was named an honorary member of the French Society of Radiology in 1996.
Dr. Houser was a member of the editorial board of the Journal of Computed Tomography and a reviewer for Radiology, American Journal of Neuroradiology and Clinical Anatomy.
Donations can be made to the R&E Foundation in memory of Dr. Houser. Contributions can be submitted online or by mail to: RSNA R&E Foundation, 820 Jorie Blvd., Ste. 200, Oak Brook, IL 60523-2251.