Sanjiv Sam Gambhir, MD, PhD, Pioneer in Molecular Imaging, Dies at 57
Global leader revolutionized early cancer detection and was an early advocate of precision health
---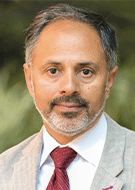 ---
Esteemed pioneer of molecular imaging, Sanjiv Sam Gambhir, MD, PhD, died on July 18 in Stanford, CA. He was 57.
Dr. Gambhir was the Virginia and D.K. Ludwig Professor in Cancer Research, chair of the Department of Radiology and director of the Molecular Imaging Program at Stanford.
He was known for his work in molecular imaging and nuclear medicine PET-CT, the multimodality imaging of gene expression, imaging of the immune system and early cancer detection. Dr. Gambhir's work in early cancer detection was inspired in part by his son, Milan, who died from glioblastoma in 2015 at the age of 16.
An advocate for precision health, Dr. Gambhir served as the director of the Canary Center for Cancer Early Detection at Stanford and established the Precision Health and Integrated Diagnostics (PHIND) Center to help create a world in which technologies continuously monitor our health.
Dr. Gambhir received his MD and PhD from the University of California, Los Angeles (UCLA) Medical Scientist Training Program. Following his nuclear medicine residency and fellowship in PET-CT, he went on to become the head of the Crump Institute for Molecular Imaging at UCLA. He was vice chair of the Department of Molecular & Medical Pharmacology at UCLA before moving to Stanford University in 2003.
The author of more than 650 peer-reviewed publications and co-editor of several books, Dr. Gambhir also served as an editorial advisor for 20 professional journals. He held more than 40 patents for novel diagnostic and therapeutic techniques, co-founded three diagnostic companies and served on academic advisory boards for educational institutions around the world. He served on the board of scientific advisors for the National Cancer Institute and on the national advisory council of the National Institute of Biomedical Imaging and Bioengineering (NIBIB). He was the current president of the International Society For Strategic Studies in Radiology.
Acclaimed for his contributions to diagnostic medical imaging, Dr. Gambhir delivered the 2010 RSNA New Horizons Lecture and the 2019 RSNA Annual Oration in Diagnostic Radiology. He was a past chair of the RSNA Molecular Imaging Committee, a former member of the Radiology editorial board and a faculty member at numerous RSNA scientific meetings.
Dr. Gambhir received several prestigious awards in the field of biomedical imaging, including the 2020 European Society of Molecular Imaging (ESMI) annual award, the Institute of Electrical and Electronics Engineers Marie Sklodowska-Curie Award, the Hounsfield Medal from the Imperial College of London, the Tesla Medal from the United Kingdom Royal College of Radiologists, and the George Charles de Hevesy Nuclear Pioneer Award from the Society of Nuclear Medicine. In 2009, RSNA named him Outstanding Researcher. He was elected to the National Academy of Medicine in 2008, the American Association for the Advancement of Science in 2014 and the National Academy of Inventors in 2016.