Patient Experience Coach Delivers Increased Value for Radiology Department
Coaching efforts seek to create the ideal waiting room experience
BY MARY HENDERSON
January 14, 2020
---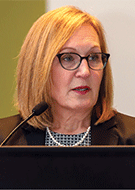 ---
When it comes to increasing patient satisfaction with imaging services, Julie Schmittdiel, RN, said it's the human factor that matters most.
"We need to get out of the mindset of rapid turnaround and actually see the patient, consider what they are going through, and act on that," said Schmittdiel, a patient experience coach at Northwestern Memorial Hospital (NMH) in Chicago.
In a session at RSNA 2019, Schmittdiel outlined her ongoing efforts to improve patient satisfaction with NMH's radiology services.
"We started by helping radiology staff to better understand what suffering looks like beyond the obvious signs of pain, anxiety and a lack of mobility," Schmittdiel said. "Patients can also suffer when they feel they aren't being heard or acknowledged, when they experience excessive wait times, or are excluded from care decisions."
Schmittdiel's coaching efforts, which began in 2017, focus on three areas: explanation, teamwork and wait time. She advises staff to speak clearly using words patients understand, not acronyms, and to explain each step of their care.
"We need to get out of the mindset of rapid turnaround and actually see the patient, consider what they are going through, and act on that."
JULIE SCHMITTDIEL, RN
"We need to convey that the patient is our priority," she said. "This can be done by assessing a patient's comfort and practicing waiting room 'rounding,' or checking in with patients as they wait." Schmittdiel said it took a few months for the staff to get comfortable with the concept she calls rounding, but once the behavior was hardwired into daily workflows, the results were remarkable.
"Staff now view rounding as a necessity and one they actually enjoy," she said.
Teamwork is Critical
To facilitate teamwork, Schmittdiel recommends that team members use each other's names and practice warm 'hand-offs' of patients from one staffer to another.
"Patients want good clinicians who work well together and listen," she said. "A patient who experiences great teamwork is six times more likely to recommend the hospital or provider."
Another big driver of patient satisfaction and recommendations is wait time. In a survey of nearly 20,000 NMH imaging patients, more than 90% of patients who waited less than five minutes said they were likely to recommend their provider. After a 30-minute wait, that group dwindled to 54%.
When waiting is unavoidable, Schmittdiel said communication is critical. Wait times should be acknowledged, she said, with updates provided every 15 minutes along with appropriate apologies.
"Staff often think that informing a patient of a delay will start a confrontation," she said. "Much to the contrary, most patients greatly appreciate being informed."
NMH's multi-pronged approach covered every patient touchpoint from registration, where a corps of volunteers was added to assist and escort patients, to the physical waiting rooms, which were improved with additional seating and better signage. Schmittdiel also provides one-on-one coaching for individual staff and behavioral interviewing training.
Staff recognition programs and team- building exercises, including daily huddles between the front and back of departments and meet-and-greets with radiologists, have been a big hit with staff.
"Many of our performance metrics for patient satisfaction realized a 10-point increase from 2018 to 2019 and we've sustained it for a year," Schmittdiel said. "All the work we've done is so worth it to be where we are now. We must embrace all the opportunities we can to make each patient welcome and comfortable during a time when they are vulnerable and possibly in the midst of a life-altering illness."