E. Robert Heitzman, MD, Former RSNA President, Dies at 93
Distinguished researcher admired for work in the anatomy and diseases of the lungs
---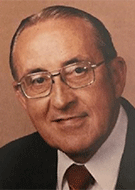 ---
Former RSNA president and an acclaimed researcher in the anatomy and diseases of the lungs, E. Robert Heitzman, MD, died on Nov. 4, in Syracuse, NY. He was 93.
Dr. Heitzman spent more than 20 years at SUNY Upstate Medical University, Syracuse, NY, where he served as chair and vice-chair of the Department of Radiology and director of the Diagnostic Division. In honor of his service, SUNY Upstate established the E. Robert Heitzman, MD, Endowed Professor of Radiological Research.
Following a stint in the U.S. Navy, Dr. Heitzman earned his medical degree from what was then the College of Medicine at Syracuse University. He completed his residency and fellowship in radiology at the University of Minnesota, Minneapolis. He was drafted as a medical doctor in the Air Force during the Korean War. After serving, he joined SUNY Upstate as an assistant professor of radiology.
Dr. Heitzman's lengthy service to RSNA included chairing the Corporate Relations Committee and the Education Exhibits Committee. He presented the Annual Oration in Diagnostic Radiology at RSNA 1981.
He was elected to the RSNA Board of Directors in 1982 and served as the Board Liaison for Publications. In that role Dr. Heitzman founded and served as the first editor of RSNA Today Video, a forward-thinking precursor to today's suite of RSNA online Radiology journals that featured videotape recordings of evolving radiologic concepts and technology. In 1990, Dr. Heitzman served as RSNA president.
Following his presidency, he served as associate editor and consultant to the editor of Radiology. He also served as a trustee and chair of the R&E Foundation. Dr. Heitzman chaired the Foundation's Diamond Jubilee Committee and was an R&E Foundation Visionary Donor. Dr. Heitzman received the RSNA Gold Medal in 1994.
Dr. Heitzman was a former president of the American College of Radiology and the Fleischner Society. He was an honorary fellow of the Royal College of Surgeons in Ireland.
He authored numerous publications, including multiple editions of his books, The Lung: Radiologic-Pathologic Correlations and The Mediastinum: Radiologic Correlation with Anatomy and Pathology. Dr Heitzman authored eight additional books and hundreds of papers on diseases of the chest.