Radiology Trainees on the Front Lines of COVID-19
Trainees redeployed to COVID-19 units share their stories
BY JENNIFER ALLYN
May 29, 2020
---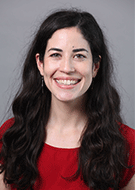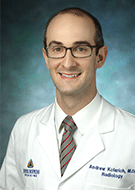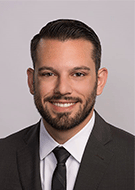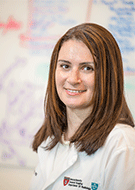 ---
This is part two of a series of articles on how COVID-19 has affected radiology trainees. Read part one and part three.
With radiology education moved online and most elective radiologic procedures postponed, many radiology trainees volunteered or were redeployed to assist on the front lines of the COVID-19 pandemic between March and April.
RSNA News interviewed four radiology trainees to present a snapshot of experiences. While their roles were varied and challenging, they all agree that their experiences have strengthened their relationships with their colleagues in other medical departments and opened their eyes to how important it is to adapt quickly to help patients under the most trying circumstances.
Helping the Sickest Patients
Samantha Harrington, MD, is a third-year resident at Massachusetts General Hospital, Boston. She was redeployed to a COVID-19 unit for a four-day rotation.
"Since I acted as an intern on the team, my duties consisted primarily of admitting patients, rounding, putting in orders and discharging patients. I even ordered some radiology studies, which was interesting since I'm usually on the other side of radiology," Dr. Harrington said.
For her, one of the hardest things about working on the COVID-19 unit was the challenge in helping the sickest patients.
"Witnessing the amount of suffering some patients experienced was hard. We still don't know very much about how to treat COVID-19, which can be frustrating for both patients and providers. Also, I was shocked — though not surprised — by how COVID is disproportionately impacting already vulnerable populations," she said.
Overall, Dr. Harrington said her time on the COVID-19 unit was a positive experience.
"My time on the wards reminded me how many people are involved in the care of patients," Dr. Harrington said. "I also appreciated how much imaging studies impacted management of patients. I met a lot of great people from other departments, so I think that really strengthened my relationships among my colleagues."
Difficult Discussions About End-of-Life Care
Andrew Kolarich, MD, is a first-year diagnostic and interventional radiology resident at Johns Hopkins Hospital, Baltimore. He spent two weeks in a COVID-19 medical ICU at Johns Hopkins Hospital and two weeks at Johns Hopkins Bayview Medical Center.
"I had previously put together an ICU orientation for the IR residents and after my year as a surgery intern at Johns Hopkins, I felt comfortable managing patients in the surgical ICU," Dr. Kolarich said. "My role entailed being first call for abnormal lab or imaging findings, admitting patients, coordinating care, rounding, presenting a handful of patients and responding to any acute events."
The more challenging task Dr. Kolarich managed for the team was calling families of each patient daily with updates.
"I had several difficult conversations with families about goals of care and end-of-life management. We had a program where patients' families could video chat their family members even if their patient was intubated since they couldn't regularly visit," Dr. Kolarich said. "I also arranged for families without symptoms to come in to say goodbye to dying patients, with appropriate PPE."
While Dr. Kolarich is worried about losing valuable time from his diagnostic radiology training, he enjoyed the clinical aspect of his time on the COVID-19 unit, particularly guiding patient management with other physicians.
"Medicine can be very tribal and different specialties don't understand one another at all sometimes, despite their best intentions," Dr. Kolarich said. "There was certainly a lot that I picked up from the internal medicine residents and fellows that I didn't know and hopefully made them more aware of what options outside their scope of training are available in the critical care setting."
Managing Cancer During a Pandemic
Benjamin Willen, MD, a second-year radiation oncology resident at Beaumont Health, Detroit, was redeployed to his main hospital on a COVID-19 floor. He had previously been scheduled to be on a thoracic/CNS radiation oncology rotation for three months. He was redeployed for a week on a COVID-19 floor and then returned to this service after two weeks of quarantine working virtually from home.
"I was reassigned to a regular inpatient floor for COVID-19 patients. I covered the night float shift during this period," Dr. Willen said. "To prepare, all medical volunteers were provided a computer-based personal protective equipment (PPE) training module to complete as well as resources and videos for proper use of PPE."
Since Dr. Willen usually works with oncology patients, his work on the COVID-19 floor has given him new perspective on his oncology work.
"Now that I am back managing oncology patients, we have had to work with them at times without full workups for their cancer and specifically that has meant making recommendations without routine pulmonary function testing or diagnostic procedures," Dr. Willen said. "From a training standpoint, we have adapted by adding practices that protect our immunocompromised cancer patients who may be more susceptible to the virus. There has been a great deal of collaboration between academic programs to create acceptable alternative treatment regimens, such as a higher rate of patients receiving short course of radiation. This was an evolving paradigm in our field, but the pandemic has accelerated that process."
Integrating COVID-19 Learnings Into Clinical Practice
Dania Daye, MD, PhD, is an interventional radiology fellow at Massachusetts General Hospital. Prior to the pandemic, she was in full-time IR training and was in the process of selecting electives to gain more exposure to new procedural techniques.
However, when the COVID-19 pandemic began, Dr. Daye was redeployed to serve on her hospital's COVID-19 medical wards. She worked a series of night shifts where she was the responding clinician for 15 to 20 patients every night.
"The best thing about my redeployment is getting to take care of patients and getting to pitch in and help in these difficult times," Dr. Daye said. "Radiologists are first and foremost physicians and we can serve in these roles when we are called upon."
The ward was a pressure cooker where patients often went downhill rapidly as the virus attacked their lungs. Dr. Daye would help perform "proning" on patients who needed more oxygen, turning them on their stomachs so they could recruit more lung tissue to oxygenate. If that didn't work, she would discuss with them the possibility of intubation in the ICU. Some older patients refused this and asked instead to be placed on Comfort Measures Only, an order that supports a comfortable natural death without life-sustaining intervention.
For Dr. Daye, the most challenging days involved patients who would not make it through the night.
"The hardest thing was definitely seeing patients die with no family members at their bedside," she said. "It is very disheartening. No one should die alone. Our nursing staff has been phenomenal in that respect and they have been going above and beyond to address this issue. During my redeployment, Over and over again I witnessed the importance of teamwork and saw first-hand the compassion and humanity in medicine. This experience will make me a better interventional radiologist."
For More Information
Access the RSNA COVID-19 Resources at RSNA.org/COVID-19.