Finding the Caring in Care
Sunday, Dec. 1, 8:30 a.m. - Arie Crown Theater
---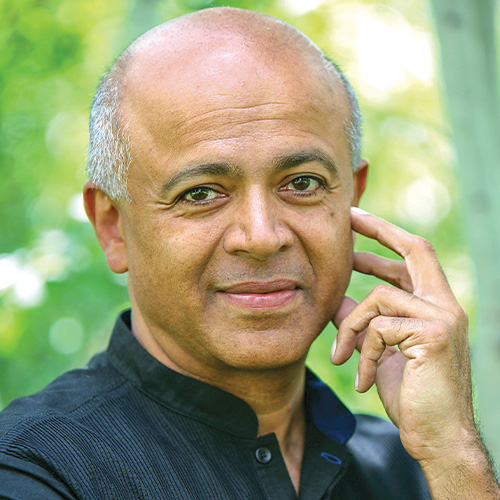 ---
Abraham Verghese, MD, MACP, is a New York Times bestselling author whose focus on the human relationship between doctor and patient has earned worldwide recognition.
In his lecture, Dr. Verghese will discuss how physicians can find meaning in their roles in a professional environment that is rapidly becoming more inundated with technology. "We will look at history and consider the nature of important human rituals in thinking of the path ahead," he said.
Dr. Verghese is the Linda R. Meier and Joan F. Lane Provostial Professor and vice chair for the Theory and Practice of Medicine at the Stanford University School of Medicine in California.
After receiving his medical education in India at Madras Medical College, Dr. Verghese moved to the U.S., completing a residency in Johnson City, TN, and a fellowship at Boston University School of Medicine. During his fellowship and subsequent professorship in Johnson City, he witnessed the emergence of the HIV and AIDS epidemic and saw it expand into rural communities.
Dr. Verghese's experience caring for patients with terminal AIDS inspired his first book, My Own Country: A Doctor's Story. His second book, The Tennis Partner: A Story of Friendship and Loss, was named a New York Times Notable Book, and his novel, Cutting for Stone, topped the New York Times bestseller list for more than two years.
For 11 years, Dr. Verghese served as a professor of medicine and chief of the Division of Infectious Diseases at Texas Tech University's Health Sciences Center in El Paso. He also served as the founding director of the Center for Medical Humanities and Ethics at the University of Texas Health Sciences Center in San Antonio, where he developed a guiding mission, "Imagining the Patient's Experience," emphasizing the importance of interactive bedside medicine during rounds with medical students.
An accomplished physician, he has served on the Board of Directors of the American Board of Internal Medicine. He is a Master of the American College of Physicians and was elected to the Association of American Physicians and the Institute of Medicine of the National Academy of Sciences. President Barack Obama presented Dr. Verghese with a 2015 National Humanities Award for "reminding us that the patient is the center of the medical enterprise."