Radio-Patho-Genomics: Computationally Integrating Disease Specific Features across Scales
Tuesday, Dec. 3, 10:30 a.m. - Room E451B
---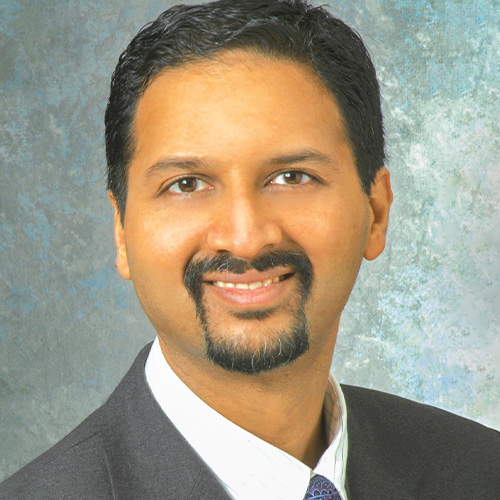 ---
Anant Madabhushi, PhD, is a pioneer in biomedical engineering whose work in computer-aided diagnosis (CAD) and image analysis has led to promising new techniques for personalized therapies for cancer, eye and cardiovascular disease.
In his lecture, Dr. Madabhushi will discuss the potential of new methods to combine imaging and other data from multiple diagnostic approaches.
Dr. Madabhushi is director of the Center for Computational Imaging and Personalized Diagnostics (CCIPD) and F. Alex Nason Professor II, Biomedical Engineering, Case School of Engineering, Case Western Reserve University (CWRU) in Cleveland, Ohio. He is also a research scientist at the Louis Stokes Cleveland Veterans Administration Medical Center.
Dr. Madabhushi received a master's degree in biomedical engineering from the University of Texas at Austin and a PhD in bioengineering from the University of Pennsylvania. He has held multiple secondary professorships at institutions including the University of Pennsylvania, Boston University and within six different departments at Case Western Reserve University.
As an investigator on multiple multi-institutional projects, Dr. Madabhushi has developed image analysis and machine learning tools for diagnosing — and identifying which patients will most benefit from specific therapies for — prostate, breast, oropharyngeal and lung cancers. He is also developing the Pathology Image Informatics Platform (PIIP), which will provide a unified user interface for third-party algorithms that can assess data from multiple sources for nuclear segmentation, color normalization, radiology-pathology fusion and quantification of biomarkers. By quantitatively mining image patterns in digitized histologic slide and radiographic scans, applying feature extraction, pattern recognition and machine learning, Dr. Madabhushi's team is developing novel computational techniques to predict disease recurrence risk, prognosis, response to and benefit of specific therapies such as checkpoint inhibitors, radiation and chemotherapy. He and his team have also developed risk assessment tools to mine digital pathology and MR images to predict and identify risk for cardiovascular disease.
The author of more than 160 peer-reviewed publications and 170 conference presentations, Dr. Madabhushi is also a fellow of the Institute of Electrical and Electronics Engineering (IEEE) and the American Institute of Medical and Biological Engineering. He holds more than 80 patents awarded or pending for his computerized analysis methods and serves as an advisory board member for multiple companies in the biomedical industry.
Dr. Madabhushi was recognized by Nature magazine in 2019 as one of five scientists developing "Offbeat approaches to cancer research." In 2018, Prevention magazine ranked the "Smart Imaging Computers for Cancer Prediction" developed by Dr. Madabhushi and CCIPD as one of the top 10 medical breakthroughs of the year. His research has earned numerous awards including the Engineering in Medicine and Biology Society Technical Achievement Award from the IEEE in 2017, the Innovation Award from Case School of Engineering at CWRU in 2014, and the Congressionally Directed Medical Research Programs New Investigator Award for Lung Cancer in 2014.