Dining Options Abound at RSNA 2019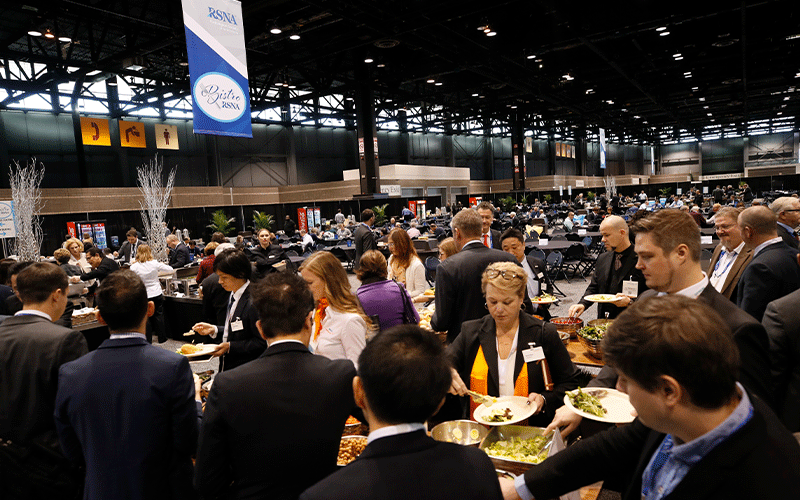 Whether you are grabbing a bite between sessions or catching up with friends after hours, you will find a wide variety of eating options at McCormick Place and around Chicago.
McCormick Place Dining
Inside McCormick Place, RSNA provides a wide variety of midday dining opportunities that provide ample seating and give you an opportunity to network with your colleagues and friends. Advance tickets for both dining options are available at RSNA.org/Register.
Bistro RSNA — Eat, Meet and Network
Bistro RSNA is a buffet-dining experience offering an extensive gourmet menu. Open Sunday through Wednesday from 11 a.m. to 2:30 p.m., Bistro RSNA has two locations in the Technical Exhibit Hall in both the North and South Buildings, Level 3. On Thursday, Dec. 5, Bistro RSNA serves its very popular hearty brunch from 10:30 a.m. to 1:30 p.m. at both locations. Advance Bistro tickets are $24 per meal.
NEW: Café RSNA
Café RSNA is a food court style café featuring a wide variety of cuisine – from American fare to multicultural options. Café RSNA offers prix fixe menus. Open Sunday through Wednesday from 11 a.m. to 2:30 p.m., Café RSNA is in the Technical Exhibit Hall of the South Building, Level 3. Advance Café tickets are $18 per meal.
McCormick Place also has several popular dining options including Starbucks, Connie's Pizza, McDonalds, 23rd Street Café, Lakeside Café, La Brea Bakery Café and more. Members will also find beverage and food carts throughout McCormick Place.
Chicago Dining
Attendees looking to sample Chicago's diverse array of eateries can visit the Concierge Desk in the Grand Concourse for restaurant recommendations, reservations and concierge services. Visit the Dining Guide at Meeting.RSNA.org.
For more information about RSNA 2019, visit Meeting.RSNA.org.