Keeping Attendees Informed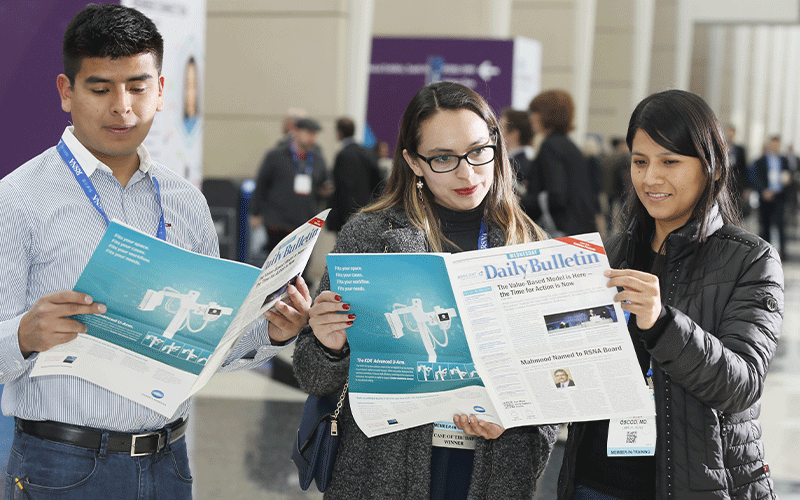 Daily Bulletin
Stay connected to all things RSNA 2019 through the print and online versions of the Daily Bulletin, the official newspaper of the RSNA annual meeting. Featuring news from the meeting and opportunities not to be missed, the Daily Bulletin is available in bins throughout McCormick Place.
Digital Daily Bulletin is available on the RSNA 2019 mobile app and online at RSNA.org/Bulletin. Look for exclusive online content, articles available ahead of print, videos and interactive quizzes and polls.
The Technical Exhibits Focus section, published Sunday through Wednesday in Daily Bulletin, features new radiologic technology and services demonstrated by technical exhibitors at the meeting. An exhibit map is also available as an insert in Daily Bulletin, including floor plans and a complete exhibitor list.
Get alerts on Daily Bulletin stories through social media at #RSNA19 on Facebook (Facebook.com/RSNAfans), Instagram (RSNAgram) or Twitter (@RSNA).
Get Help — Onsite and Online
RSNA offers Information Desks to aid attendees during the annual meeting. Visit one of the RSNA Information Desks in the Grand Concourse, Level 3, or in the Connections Center, Lakeside Center East, Level 3, where RSNA staff can assist with general information.
International Services Help Onsite
Although the annual meeting is officially in English, RSNA offers translation services in Chinese, Dutch, French, German, Polish and Spanish, available at the Information Desks. Also, images are used on signs in key areas at McCormick Place to assist in finding your way.
Register for the RSNA 5K Fun Run
Enjoy an early morning run or walk along Chicago's lakefront during the RSNA 5K Fun Run. Join your colleagues in an energizing and friendly race to benefit the R&E Foundation. The Foundation funds grants and awards to individuals and institutions that advance radiologic research, education and practice.
Register now for the event on Tuesday, Dec. 3 at 6:30 a.m. The advance registration fee is $40; onsite fee is $50. All registration fees are considered a donation and are nonrefundable. Register at RSNA.org/Fun_Run.
The Fun Run is sponsored by Konica Minolta Healthcare.
For more information about RSNA 2019, visit Meeting.RSNA.org.