Hahn Confirmed As Commissioner of U.S. Food and Drug Administration
Noted radiation oncologist will lead federal agency responsible for protecting and promoting public health
---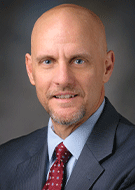 ---
RSNA congratulates Stephen M. Hahn, MD, who was confirmed by the U.S. Senate to be the next commissioner of the U.S. Food and Drug Administration (FDA). Dr. Hahn is currently the chief medical executive and professor, Department of Radiation Oncology, Division of Radiation Oncology, The University of Texas MD Anderson Cancer Center, Houston, TX.
As a radiation oncologist, Dr. Hahn specializes in treating lung cancer and sarcoma with an emphasis in research on the molecular causes of the tumor microenvironment, particularly the study of chemical signals and the evaluation of proton therapy as a means to improve the efficiency of radiation therapy.
Dr. Hahn joined MD Anderson in 2015 as division head, department chair and professor of radiation oncology. Prior to that, he was chair of the Radiation Oncology Department at the University of Pennsylvania's Perelman School of Medicine, Philadelphia, from 2005 to 2014.
Dr. Hahn is a former RSNA R&E Foundation Research Scholar Grant recipient and has served on the R&E Radiation Oncology Research Study Section. Dr. Hahn delivered the RSNA 2011 Annual Oration on Radiation Oncology. He has also served as faculty of the RSNA Clinical Trials Methodology Workshop.
Dr. Hahn follows former FDA Commissioner Scott Gottlieb, MD, who stepped down in April.