One Researcher's Heroic Battle Against ALS
UCSF neuroradiologist diagnosed with ALS continues to research the fatal disease
BY LYNN ANTONOPOULOUS
June 18, 2019
---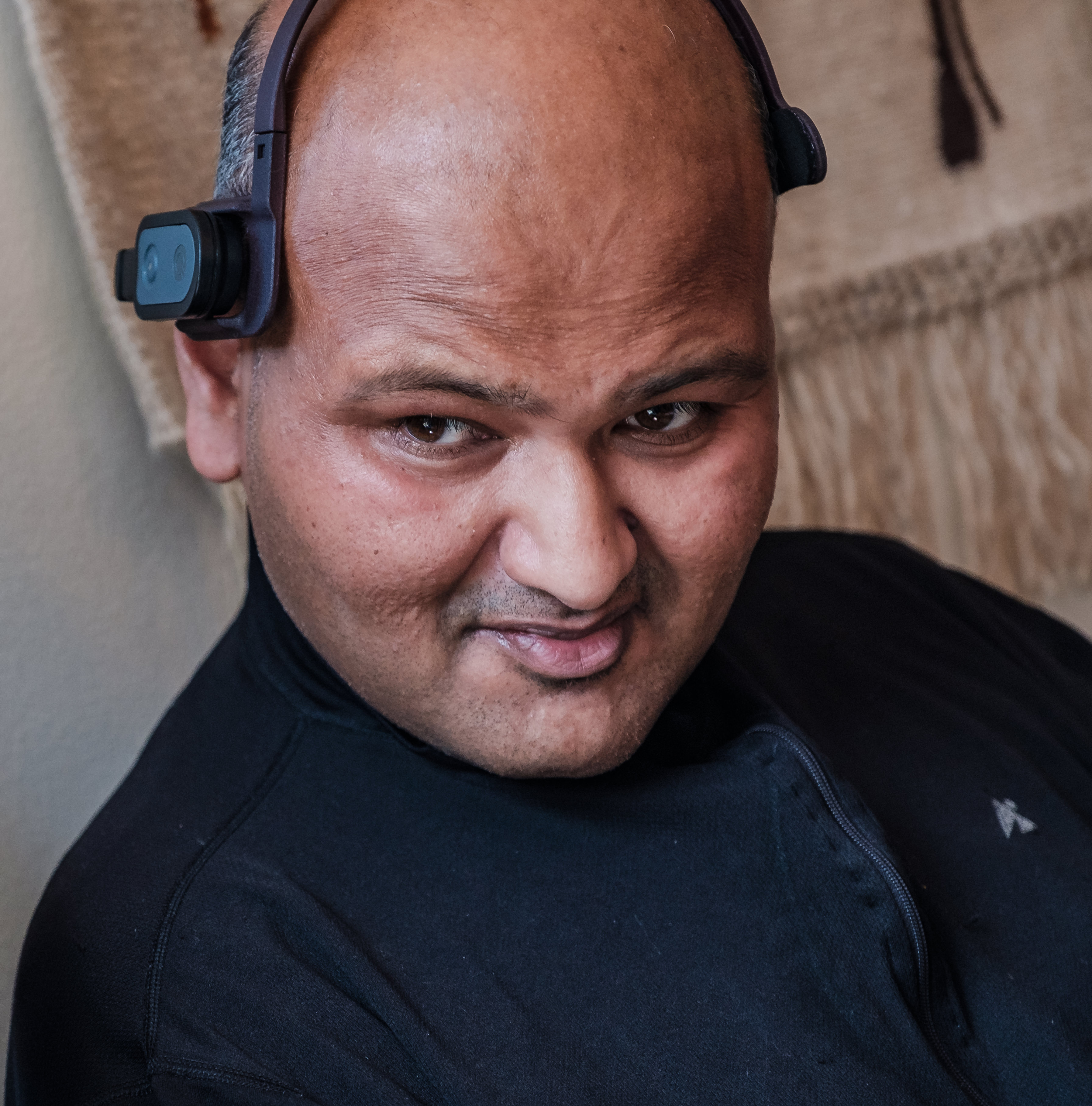 ---
RSNA mourns the loss of our colleague and friend, Rahul Desikan, MD, PhD, who passed away on July 14, 2019.
Two years ago, prominent neuroradiologist Rahul Desikan, MD, PhD, was working to uncover the genetic basis of amyotrophic lateral sclerosis (ALS) when he was suddenly struck with a rapid form of the very disease he was studying. Now, locked in his body and rapidly losing control of his remaining motor functions, he continues his research, seeking a way to slow or stop the devastating progress of the lethal disease.
It is a story on the scale of the disease's namesake, Lou Gehrig, who tragically died at 41 with the world watching. Also in the prime of life, Dr. Desikan, 40, is a devoted family man with a wife and two young children. He is at the peak of his research career at University of California, San Francisco (UCSF), where he serves as an assistant professor of radiology and biomedical imaging and co-director of the Laboratory for Precision Neuroimaging.
Working closely with a global team of researchers including colleague and friend, Leo Sugrue, MD, PhD, also a radiology professor at UCSF and co-director of the Laboratory for Precision Neuroimaging, Dr. Desikan continues to publish a spectrum of research on neurodegenerative diseases that is a continuation of his life's work.
No longer able to walk or speak, Dr. Desikan spends much of his time at the computer navigating the screen and communicating through a series of eye and head movements. He says the cognitive parts of his brain are still working "perfectly fine."
For his colleagues, Dr. Desikan's illness personalized their effort and, as one postdoctoral researcher indicated, drove their motivation beyond papers, grants and tenure to a sharpened focus on real people who are dying and need help now.
A Big Data Approach
Dr. Desikan and colleagues are motivated by one mission: to uncover the important genetic overlap between ALS and other complex neurodegenerative diseases in the hope of identifying risk factors for ALS. If successful, the researchers hope to offer those with increased genetic risk of developing ALS the opportunity for an extended life that Dr. Desikan himself does not have.
Dr. Desikan is playing a leading role in that work. Since his diagnosis, Dr. Desikan has been an author — often the lead or senior author — of 26 published studies on Alzheimer's disease (AD) Parkinson's disease, schizophrenia and ALS, including a 2018 Radiology study.(See sidebar)
Soon after his diagnosis, Dr. Desikan said he felt a heightened urgency to get things done, "…particularly in the case of ALS, which appeared to be stuck and for which no one seemed to be applying the type of big data methods that I felt were key to understanding this disease."
According to Dr. Sugrue, this big data mindset led Dr. Desikan to combine genetic datasets and examine the impact of genes that are shared between diseases.
Taking advantage of ever-increasing information access and using available data from clinical trials and large, genome-wide association studies, the researchers are using statistical models to identify genetic overlap between different diseases. Their belief is that this overlap may identify distinct genetic subgroups of patients with a disease like ALS, that may explain why different patients with ALS are affected in some parts of their bodies before others, or experience very different rates of disease progression.
Through this analysis, Drs. Desikan and Sugrue are working to develop an ALS-specific polygenic hazard score (PHS), a numeric assessment of DNA variants that quantifies a person's genetic susceptibility to a complex disease like ALS.
In previous research, Dr. Desikan and colleagues developed a PHS for AD that integrates genetic variants within an epidemiological framework to measure individual differences in age-specific genetic risk for AD.
Dr. Desikan believes his research points to the power of genetics to identify different probable underlying mechanisms of disease in individual patients who might carry the same diagnosis but have very different underlying disease biology.
"This is the basic concept of increasing the positive predictive value of a test by deploying it in the correct population who are 'enriched' for the thing for which you are testing," Dr. Desikan said. "By dividing people into more biologically relevant and homogenous subgroups, the predictive power of imaging will increase."
A Hero's Legacy
Although he is unable to directly benefit from his research, Dr. Desikan has continued to mine through data and said the effort helps mask his anger and pain over the injustice of his disease.
Beyond his novel approach to decoding ALS, part of Dr. Desikan's heroic legacy may be the way his story highlights the need for change in scientific funding.
"In today's world, scientific insights are going to come from making connections — between disciplines and data sets — I am living proof that with the right skills and creativity, a radiologist sitting at home can be mining large, publicly available genetic data sets for signals that reveal the molecular mechanisms of a disease like ALS. There is no NIH study section for that."
Following Dr. Desikan's Amazing Story
As Rahul Desikan, MD, PhD, continues to battle ALS, the UCSF Laboratory for Precision Neuroimaging is documenting his amazing story every step of the way.
The UCSF website features extensive coverage of Dr. Desikan's story in publications including the Washington Post, the Lancet and the ALS Association Blog. Dr. Desikan has authored op-eds for the Washington Post and the San Francisco Chronicle, detailing his story in his own words.
A series of videos by videographer Olivia Norrmen-Smith documents various facets of Dr. Desikan's battle with ALS, while a 2018 "Good Morning America" segment features an emotional interview with Dr. Desikan and his wife, Maya Vijayaraghavan, MD.
The UCSF lab is also seeking funding for ALS research through traditional and crowdsourcing approaches.
Access the UCSF Laboratory for Precision Neuroimaging.