Teaching Residents Advanced Technology will 'Future-Proof' the Profession
As one of the fastest moving fields in medicine, the radiology of tomorrow will be defined by advanced technologies. But are graduate medical education programs adequately preparing today's students for this future?
By Nick Klenske
January 01, 2019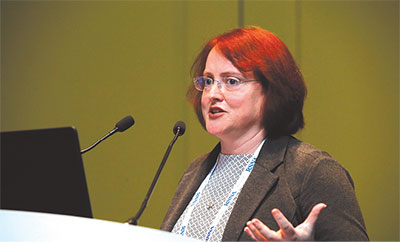 According to an RSNA 2018 presenter, the answer is no.
"There aren't a lot of programs that have resident training in 3D printing, augmented and virtual realities and machine learning," said Summer Decker, PhD, of the University of South Florida (USF) Health Morsani College of Medicine.
This is changing, however, especially as many of today's residents arrive tech-savvy, she said.
"Residents have told me that they were attracted to radiology because of its use of technology," Dr. Decker said. "We would be setting them up for failure if we didn't provide opportunities to be exposed to and trained in using such technologies as 3D printing."
Dr. Decker noted that what we train today's residents in will not necessarily be what radiology looks like in 20 years.
"Our teaching isn't only about familiarizing students with current technologies," she said. "It's about making them comfortable with technology in general, so they are prepared for the next big development — whatever it may be."
This forward-looking approach to resident training is what Dr. Decker calls "future proofing radiology." At USF, students, residents and fellows are all exposed to 3D technologies from day one. Dr. Decker and her colleagues regularly speak at the hospital's daily resident conference on such topics as types of 3D printing, post-processing of images, and tips on how to best capture images for 3D visualization and printing.
Training Colleagues in Other Fields Critical
USF involves residents and fellows in research in diagnostic and interventional radiology. Residents are also sent to international presentations and conferences, where they both speak and learn about the use of advanced technologies in radiology.
"I've been so impressed with the ideas and new applications that our residents have come up with," Dr. Decker said. "We've seen them teach other fields about what's possible with radiology and have novel medical devices developed that have gone on to be patented."
Another key component to Dr. Decker's strategy is to train her colleagues in other fields so they can add 3D technologies into their teaching. "At USF, we're developing training that will be shared so other programs can collaborate and implement it into their program," she said.
By training both radiologists and colleagues in other fields, Dr. Decker is demonstrating the value-added role of radiology in collaboration with other disciplines.
"I love it when our residents can be proud of the role that 3D technology played in the success of a case," she said. "One of the biggest benefits of this hands-on approach is that it gets residents comfortable using and sharing new technologies, which is a skill they will benefit from throughout their careers."
Web Extras
Go to RSNA.org/News to watch our interview with Dr. Decker.