Patients, Referring Physicians Have Conflicting Opinions on Direct Reporting of Results
Discrepancies often exist between what patients want and what referring physicians think is best when it comes to accessing patient information, according to recent research.
BY MELISSA SILVERBERG
January 22, 2019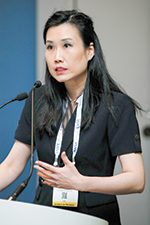 In a study led by Janice Thai, MD, of Staten Island University Hospital, researchers conducted an anonymous survey of 368 patients who had undergone imaging procedures at Northwell Imaging Center in New York. Of the patient respondents, 81.5 percent preferred that all results be communicated from the radiologist on the same day, according to the research presented at RSNA 2018. Survey results showed that patients were more likely to strongly agree with waiting to review results with the referring physician if the results were abnormal, as opposed to normal.
Of the 168 referring physicians mailed a similar survey, 36 percent preferred same day communication by the radiologist to the patient along with a report sent to their office, while 12.4 percent preferred that radiology reports be sent to their office with a summary report sent to the patient.
The survey also showed that 64 percent of referring physicians did not want the radiologist to review results with their patients and 87.6 percent did not want a report sent to the patient by the radiologist, even after the report was sent to their office.
Transformational Change in Roles Necessary
Researchers said they were not surprised by the conflicting results.
"Radiology as a whole is moving toward patient-centered care, which means we want to cater to what the patient wants," Dr. Thai said. "This survey reflects contemporary trends we are seeing where the patients overwhelmingly prefer something that the referring physician often does not want."
Physicians may be concerned about anxiety among their patients, making sure they understand their results and communicating quickly about a plan of care. But in a world where most information is available on demand, patients often want access to their health care results as soon as possible. Dr. Thai said 66.4 percent of patients surveyed said waiting for results gives them anxiety.
"We have two differing preferences here," Dr. Thai said. "We need to define: What is the role of the radiologist in patient management and care?"
There are some areas of radiology where patients are used to getting results or a summary right away or within 48 hours via a patient portal. For example, breast imaging centers typically give patients mammography results before the referring physician has seen them. But, researchers said, this has been the norm for decades and is not how results are typically delivered in other areas of radiology.
"There is a natural tension between radiologists' and referring physicians' attitudes. I believe both need to make a transformational cultural change in the way they look at their roles," said researcher Arnold Brenner, DO, a diagnostic radiologist at Staten Island University Hospital. Dr. Brenner said new technology, such as online portals where patients and doctors share information, can play a role in bridging the gap.
"We should be able to develop innovative approaches that allow radiologists to realize faster reporting of results and allow referring physicians to expedite appropriate care," Dr. Brenner said.