Member Spotlight: David Ballard, MD
Learn more about the interests and accomplishments of an RSNA member.
---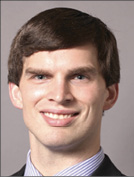 ---
David Ballard, MD, is a third-year radiology resident at the Mallinckrodt Institute of Radiology in St. Louis. He will complete his training with his fourth year of residency, where he will serve as chief resident, followed by a fellowship in body MRI at Mallinckrodt. Dr. Ballard will join the faculty at Mallinckrodt as part of the Abdominal Imaging Section after completing his fellowship.
Dr. Ballard serves as chair of the RadioGraphics subcommittee of the RSNA Resident and Fellow Committee and is a member of the RSNA 3D Printing Special Interest Group. His research interests include 3D printing in medicine along with broad CT and MR applications in abdominal and genitourinary imaging. Dr. Ballard received an RSNA Resident Research Grant, was awarded the 2017 RSNA Olmsted Editorial Fellowship for Trainees, and serves as a reviewer for both Radiology and RadioGraphics.
What or who sparked your interest in radiology?
Radiologists who engaged me as a premedical observer and a medical student were very influential in my decision to choose radiology. By far my most interesting and positive experience as a premedical student was shadowing a private practice radiologist, Dr. Richard Martinez, who treated every case as a teaching opportunity and explained everything at my education level.
I started medical school with an open mind to explore all the specialties as potential future residencies, but for me nothing ever topped radiology. The engagement with other physicians, being at the center of many patient management decisions and the breadth of things to learn were all influential aspects. Learning from Dr. Horacio D'Agostino, my research mentor and continued friend, solidified my choice.
What would you describe as the biggest professional challenge you face today?
Balancing clinical work, research projects, administrative tasks, along with family and personal life is an ongoing challenge. There is often simply too much to do in a work day, which is sometimes eight, 12 or 16 hours.
What is the biggest reward?
Serving in a multitude of patients' episodes of care on a day-to-day basis, playing an integral part in diagnosing conditions or simply interpreting a normal examination are rewarding aspects of the profession. Additionally, I enjoy trying to improve our field and our understanding of certain disease processes through research endeavors.
How does your membership with RSNA help you in your daily practice?
Access from work, home or on my phone to Radiology and RadioGraphics articles is a great benefit. Engaging with both of these journals as a reviewer tremendously helps deepen my knowledge. Additionally, RSNA Weekly and Insider emails along with the social media presence of RSNA help me to stay aware of current events and research achievements in radiology.
How do you like to spend your free time?
I spend time with my wife and three kids, enjoying all the family-friendly activities St. Louis has to offer (the zoo is our favorite) and attending my children's soccer and baseball events. I personally enjoy boxing, mixed martial arts, Olympic weightlifting, working out and listening to audiobooks during my commute.