Member Spotlight: Scott Reeder, MD, PhD
Scott Reeder, MD, PhD, is a professor, vice chair of research and chief of MRI in the Department of Radiology at the University of Wisconsin (UW), Madison.
---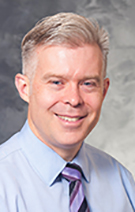 ---
Dr. Reeder joined UW-Madison in 2005 after completing his radiology residency and a fellowship in abdominal and cardiovascular imaging at Stanford University. He completed medical school at Johns Hopkins in Baltimore, where he also received master's and doctoral degrees in biomedical engineering. He was awarded an Agfa Healthcare/RSNA Research Scholar Grant in 2006 for his research into imaging liver tumors. Dr. Reeder is also director of the NIH-funded UW Liver Imaging Research Group. He has authored over 250 manuscripts and holds 34 patents. He is president-elect of the Society of Computed Body Tomography and Magnetic Resonance.
What or who sparked your interest in radiology?
When I was in graduate school I had the opportunity to work in cardiac MRI. Working with cardiologists and radiologists to image the heart inspired me to pursue a career in medical imaging.
What would you describe as the biggest professional challenge you face today?
I think the biggest challenge is also what makes the work the most exciting. I enjoy the challenge of putting it all together — that is balancing and integrating the varying needs of clinical care, research and education. Putting these pillars of academic medicine together is challenging and very interesting.
What is the biggest reward?
By far the biggest reward is mentoring junior team members — researchers, graduate students and junior faculty. Watching them succeed and grow professionally is the most rewarding experience.
How does your membership with RSNA help you in your daily practice?
Being an RSNA member helps make important connections and brings together the world of radiology. The annual meeting in particular is a really powerful venue for building those bridges.
How do you like to spend your free time?
I like to spend time with my family and also outdoors. I enjoy sports, especially skiing and fishing. I also like to travel and read whenever I have the time.