RSNA 2017 Honorary Member Renato Adam Mendonça, MD, PhD
---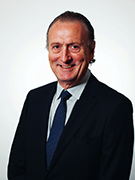 ---
Renato Adam Mendonça, MD, PhD, is the chief of the Department of Neuroradiology at Delboni Auriemo, São Paulo.
"Dr. Mendonça is a preeminent educator and advocate for strong relationships between international radiologic organizations," RSNA President Richard L. Ehman, MD, said. "Through his devotion to education in radiology, he made invaluable contributions to the field of radiology and helped shaped the careers of the next generation of radiologists throughout South America."
Dr. Mendonça is the current treasurer of the International Society of Radiology. He is a former president of the Radiological and Diagnostic Imaging Society of São Paulo (SPR) and is the scientific director and current chair of the Educational Committee. As the scientific director, Dr. Mendonça has been instrumental in the continued partnership with RSNA to host the Jornada Paulista de Radiologia (JPR) in Brazil every two years.
His professional involvement also includes serving as a member and past vice president of the Brazilian College of Radiology and Digital Imaging and as a founding member of LATINSAFE, an alliance of radiologists in Latin America that advocate for radiation protection for patients. Dr. Mendonça is the vice chair of RSNA's International Advisory Committee and a member of the Regional Committee for Latin America. He lectures throughout Brazil on radiology and neuroradiology.
Dr. Mendonça authored a chapter in Dr. Scott Atlas' Magnetic Resonance Imaging of the Brain and Spine, a leading textbook on imaging. He was co-editor of the Encéfalo (Encephalon) book and received the Jabuti award, the most prestigious literary award in Brazil.
Dr. Mendonça earned his medical degree in 1976 from the Medical School of Federal University of Paraná in Curitiba, Brazil. He completed his residency in radiology at the Hospital das Clínicas da Universidade Federal do Paraná, Brazil, and an additional neuroradiology residency at the Hospital Sírio-Libanês, São Paulo. In the interest of expanding his knowledge of international radiology, Dr. Mendonça spent a year as a visiting fellow in the neuroradiology department of the University of Pennsylvania, Philadelphia, before returning to Brazil to earn his PhD in medical sciences at the Federal University of São Paulo.
He began his medical career in the radiology department at the Hospital Beneficência Portuguesa, (now Hospital BP) in São Paulo and eventually became head of the neuroradiology section. During his 30 years at Hospital BP, Dr. Mendonça was an advocate for the development of the radiology residents training program, which has become one of the most prestigious in the country. From 2010 to 2015, he was the medical director of Diagnósticos da America.