RSNA 2017 Honorary Member Katrine Riklund, MD, PhD
---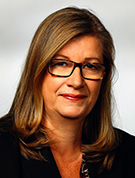 ---
A respected leader in diagnostic radiology and nuclear medicine, Katrine Riklund, MD, PhD, has devoted her career to collaboration between the two disciplines, laying the groundwork for the dramatic growth of hybrid imaging. As the founding president of the European Society of Hybrid Medical Imaging (ESHI), Dr. Riklund is working to provide better education and training in hybrid imaging for both specialties.
"Dr. Riklund is a renowned leader in radiology, with a brilliant career that has included important research contributions at the interface of molecular imaging with neuroscience, oncology and many other areas," RSNA President Richard L. Ehman, MD, said.
Born in Norrbotten, Sweden, Dr. Riklund earned her medical degree at Umeå University in Sweden, and also her postdoctoral degree in diagnostic radiology and nuclear medicine. She has remained at Umeå, serving as an associate professor, head of the Clinical Department of Radiology, head of the Department of Radiation Sciences and as deputy dean of the Medical Faculty. She is currently a professor in diagnostic radiology, a consultant for radiology and nuclear medicine, and pro vice chancellor at Umeå University.
As a researcher, Dr. Riklund helped bridge the divide between immunology and nuclear medicine by developing an evaluation of monoclonal antibodies in the diagnosis and treatment of gynecological cancers. Thereafter, she focused her research on hybrid imaging with PET/CT and PET/MR, which plays an increasingly crucial role in the routine staging of oncologic disease, treatment planning and follow-up.
Dr. Riklund has served as president of both the Swedish Society of Nuclear Medicine and the Swedish Society of Medical Radiology, where she has been a board member since 1999. She has been a member of the International Commission on Radiological Protection Committee 3: Protection in Medicine. Her longstanding relationship with the European Society of Radiology (ESR) includes serving as president of the 2016 European Congress of Radiology (ECR) and as chairperson of the ESR board of directors, and currently as the immediate past president of ESR.
Dr. Riklund is a talented educator who has advised doctoral students in radiology and nuclear medicine. She has published numerous book chapters and authored research in journals across many specialties. She is also a board member of Acta Radiologica.
Among her many accomplishments, Dr. Riklund has served as an imaging expert on Guidelines in Colorectal Cancer Care and Guidelines for Breast Cancer Care for the National Board of Health and Welfare and as chair of the Center for Medical Image Science and Visualization, University of Linköping, Sweden.
Dr. Riklund serves as the ESR representative on the RSNA Committee on International Radiology Education (CIRE).