RSNA 2017 Honorary Member Hassen A. Gharbi, MD, PhD
---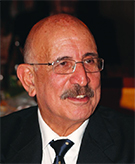 ---
Hassen A. Gharbi, MD, PhD, earned his medical degree in 1967 from the Université Paris Medical School, where he subsequently received degrees in radiology, aeronautic medicine and medical electronics. He received a post-doctoral degree in optic physiology from the Faculty of Science at the Orsay campus of the Université Paris and a degree in management of radiation accidents from Oak Ridge Associated Universities, Oak Ridge, TN.
He began his career as an assistant professor in the biophysics department at the Université Paris Medical School. When he returned to Tunisia in 1970, he founded and served as head of the first department of radiology at the Tunis Children's Hospital, where he remained until 1989. Simultaneously, Dr. Gharbi served as head of the medical biophysics department at the Medical School of Tunis from 1970 to 1985 and as vice dean from 1971 to 1973. He served as president of the Radiological National Commission in the Ministry of Public Health, Tunis, from 1975 to 1985. Now retired, Dr. Gharbi remains active in radiology teaching programs in Tunisia and other developing countries.
"Dr. Gharbi was a pioneering pediatric radiologist in North Africa," RSNA President Richard L. Ehman, MD, said, "and in that role he helped provide access to modern pediatric radiology in his home country of Tunisia and throughout the region."
Credited with introducing ultrasonography in Tunisia in 1978, Dr. Gharbi's research on ultrasound classification of the hydatid cyst was published in Radiology in 1981 and remains an important resource to radiologists around the world. He has authored or co-authored more than 20 books on pediatric radiology and tropical and infectious diseases and has published more than 130 articles in national and international journals.
Dr. Gharbi founded the Tunisian National Centre of Radiation Protection in 1971 and served as director for nearly 20 years. He is a founding member of numerous medical associations, including the Mediterranean and African Society of Ultrasound and the Tunisian Society of Ultrasound and Biology, serving as president of those organizations.
He is the immediate past president of the World Federation for Ultrasound in Medicine and Biology and served as president of the Tunisian Society of Medical Sciences and the Tunisian Society of Radiology.
Dr. Gharbi currently serves on RSNA's International Advisory Committee (IAC), the Regional Committee for Middle East/Africa IAC and the Education Exhibits Obstetrics/Gynecology Subcommittee.
His numerous accolades include the prestigious Antoine Béclère Medal from the International Society of Radiology and honorary memberships in the European Society of Radiology, the Society for Pediatric Radiol