RSNA 2017 Gold Medal J. William Charboneau, MD
---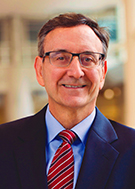 ---
An ambitious educator and internationally recognized scientist, J. William Charboneau, MD, is a leading authority in diagnostic ultrasound and image-guided ablation of cancer of the liver, kidney and bone.
"Dr. Bill Charboneau is a world-renowned clinician, educator, and visionary, who pioneered many advanced applications of imaging and intervention," RSNA President Richard L. Ehman, MD, said. "His innovations, leadership, and advocacy were instrumental in the development of image-guided percutaneous tumor ablation treatment, which has had a profound impact on patients worldwide."
A professor emeritus of radiology at Mayo Clinic College of Medicine in Rochester, MN, Dr. Charboneau received his medical degree from the University of Wisconsin in Madison and completed his radiology residency at Mayo Clinic. He began his career in the radiology department at Mayo Clinic and continued to practice there for 30 years, until his retirement in 2010.
Dr. Charboneau pioneered the use of diagnostic ultrasonography for the characterization of focal thyroid nodules and liver masses and the critical role of ultrasound in distinguishing benign from malignant lesions. He was also an early leader in the development of image-guided intervention for procedures including biopsy and ablation.
His clinical expertise and extensive research led to the publication of radiology's most authoritative reference book on ultrasound imaging, Diagnostic Ultrasound. Dr. Charboneau and his fellow editors worked with more than 100 authors from around the world to finalize this book that is now in its fifth edition. In addition to this seminal work, he also authored more than 175 scientific publications and he is co-editor of several other textbooks.
Because of his expertise in imaging of thyroid cancer, the National Academy of Sciences asked him to join a committee to research the health implications of the I-131 fallout from nuclear bomb testing that took place between the 1940s and 1960s over the western U.S. From his work on this committee, he published several studies and perspectives on the role of ultrasound imaging in detection of thyroid cancer.
Dr. Charboneau presented the 2006 RSNA Eugene P. Pendergrass New Horizons Lecture entitled, "Image-Guided Cancer Treatment: The Science and Vision of an Emerging Field." He served as a member of the RSNA Public Information Committee and on the Public Information Advisors Network.
Dr. Charboneau's contributions to the art and science of radiology have been recognized with multiple awards, including the 2014 GI Lifetime Achievement Award from the Society of Abdominal Radiology and the 2015 Lawrence A. Mack Lifetime Achievement Award from the Society of Radiologists in Ultrasound.