Roderic I. Pettigrew, PhD, MDRSNA 2017 Opening SessionTomorrow's Radiology
---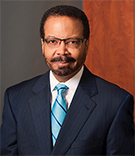 ---
Roderic I. Pettigrew, PhD, MD, will share the need for healthy longevity as the overarching goal of the healthcare enterprise, one that is even being pursued by the National Academy of Medicine. The vision shared in his lecture entitled, "Tomorrow's Radiology," is straightforward: to be born healthy, acquire no significant disease, live a long and satisfying life, and to reach the end of life without pain or suffering from disease. Dr. Pettigrew will discuss the role of biomedical imaging in reaching that goal.
Founding director of the National Institute of Biomedical Imaging and Bioengineering (NIBIB), Dr. Pettigrew is a pioneer in biomedical imaging who has implemented multiple innovative programs and is helping create a new era in medicine.
Among his accomplishments at NIBIB, Dr. Pettigrew jointly led a national effort with the Howard Hughes Medical Institute to create new interdisciplinary graduate training programs. In 2008, he established the Quantum Grants program to achieve "medical moon shots" designed to solve major healthcare problems. Recently he championed a broad-based effort of academic, industry and government leaders to advance technologies that can restore notable motor and autonomic function after paralysis from spinal cord injury. He called for and established an Indo-U.S. partnership to invent new technologies for passive, cuffless blood pressure monitoring. In addition, he was an early advocate of a national system for patient-controlled sharing of medical images which became the RSNA Image Share project. He helped establish and has co-chaired the congressionally requested Federal Inter-Agency Working Group on Medical Imaging.
At the time of his NIBIB appointment, Dr. Pettigrew was serving as professor of radiology and medicine at Emory University School of Medicine, and professor of bioengineering at the Georgia Institute of Technology, both in Atlanta. During this time, Dr. Pettigrew became known for pioneering work developing 4-D imaging of the cardiovascular system using MRI, which was the topic of his RSNA 75th Anniversary Diamond Jubilee New Horizons Lecture.
A graduate of Morehouse College in Atlanta, Dr. Pettigrew earned his PhD in applied radiation physics from the Massachusetts Institute of Technology, Cambridge, and his medical degree from the University of Miami School of Medicine. He completed his residency in nuclear medicine at UC San Diego in 1983. Dr. Pettigrew spent a year as a clinical research scientist with Picker International, the first manufacturer of MRI equipment. In 1985, he joined Emory University School of Medicine in Atlanta as a Robert Wood Johnson Foundation Fellow with an interest in non-invasive cardiac imaging. He remained at Emory and also served as a professor of biomedical engineering at the Georgia Institute of Technology until his 2002 appointment to the NIBIB.
In addition to his duties as NIBIB director; Dr. Pettigrew serves as the NIH Liaison to NASA and the U.S. Department of Energy, and co-leads a joint effort with the Bill and Melinda Gates Foundation to develop a cell phone-based platform to test for influenza and other diseases at home.