ABR to Issue First IR/DR Board Certificates Oct. 15
New certificate recognizes interventional radiology as a unique specialty
---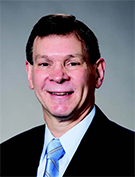 ---
Qualified interventional radiologists will be issued new Interventional/Diagnostic Radiology (IR/DR) board certificates on Oct. 15. The new American Board of Radiology (ABR) certificate recognizes interventional radiology as a unique specialty. IR joins diagnostic radiology, radiation oncology and medical physics as one of four primary certificates offered by the ABR.
Vascular and interventional radiology (VIR) diplomates have until Oct. 15 to opt in or out for the new certificate.
"This is a landmark event for ABR that has been over a decade in the process," said Matthew A. Mauro, MD, chair of the Department of Radiology at the University of North Carolina School of Medicine in Chapel Hill, NC, where he also holds the Ernest H. Wood Distinguished Professorship. "This certificate elevates and recognizes interventional radiology as distinct and unique, and the IR/DR designation recognizes that the diplomates have skill sets in both of these disciplines," said Dr. Mauro, who is also the RSNA Board of Directors liaison for education and serves on the ABR Board of Governors.
Those with subspecialty certification in VIR are eligible to receive the new IR/DR certificate. ABR is offering VIR diplomates a choice of whether they want to opt in for the new IR/DR certificate. Those who do not respond by Oct. 15 will automatically be converted to the IR/DR certificate. There is no fee or test required for converting to the new certificate. Diplomates with VIR lifetime certificates can also opt in for the new certificate and their lifetime certificate will be put on hold.
The American Board of Medical Specialties (ABMS) approved the IR/DR certificate to recognize IR as a unique medical specialty in 2012. The Accreditation Council for Graduate Medical Education (ACGME) approved the first group of IR Integrated Residency programs in November 2015. The first IR/DR certifying exam will take place Oct. 15 - 16, to coincide with the issue of new certificates.
Web Extras
For more information on the American Board of Radiology (ABR) Interventional Radiology/Diagnostic Radiology (IR/DR) certificate, go to theabr.org