Your Donations in Action: Allen Ardestani, MD, PhD
---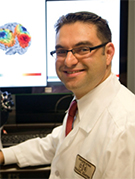 ---
Near-Infrared Spectroscopy (NIRS) to Predict Neurologic Outcome in the Comatose Patient
Despite ongoing advances in neurocritical care, there is no readily available clinical tool for objective measurement of brain activity in comatose patients.
Using a 2016 RSNA Research Resident Grant, Allen Ardestani, MD, PhD, of the Department of Diagnostic Radiology, Cedars-Sinai Medical Center, Los Angeles, will investigate the use of near-infrared spectroscopy (NIRS) – a functional-imaging modality that quantifies cerebral oxygenation based on its optical rather than magnetic properties – to quantify neural network connectivity in unconscious patients.
Quantitative assessment of neural activity and its correlation with subsequent neurologic outcome may provide a diagnostic and prognostic methodology for the objective assessment of neural injury following an injury to the brain.
"This novel approach combines the advantages of a safe, inexpensive and portable functional-imaging modality with an easily administrable resting-state paradigm to assess neural integrity in unresponsive patients," Dr. Ardestani said.
By substantiating a methodology with prognostic potential in such patients, these findings could significantly impact decision-making in intensive care.