Radiology Makes List of "Best Jobs in America"
BY PAUL LATOUR
February 01, 2017
---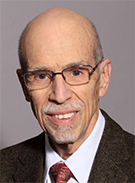 ---
A career in radiology is considered one of the "Best Jobs in America", according to a recently released list compiled by CNNMoney and PayScale.com. Radiologist ranked No. 45 on the list of 100 careers with big growth, great pay and satisfying work.
"I am very pleased and glad to see radiologists included in this list of the 100 best jobs in the U.S.," said Leonard Berlin, MD, a member of RSNA's Public Information Advisors Network.
According to the list, radiologists earn a median pay of $316,000 with a top salary of $492,000 — the second highest paying career on the list. The rate of 10-year job growth is projected at 15 percent.
In addition, radiology earned an "A" in three of four quality-of-life ratings: personal satisfaction, benefit to society and telecommuting.
"To do work that benefits society, and at the same time derive personal satisfaction, are goals that most people never achieve, or have difficulty in achieving," said Dr. Berlin, a professor of radiology at Rush University Medical College and the University of Illinois-Chicago. "I, and the majority of radiologists I know, have achieved and continue to achieve, that goal."
The lowest rated category for radiology was a "B" in low stress, which did not surprise Dr. Berlin. Radiologists whose compensation is tied to the number of exams they read per day, week or month may experience stress.
"Unlike the 'good old days,' some radiologists now sit all day before a computer reading one case after another, after another. But, fortunately, this is in the minority," Dr. Berlin said.
The best job honors went to mobile applications developer. Anesthesiologist ranked as the best-paying career among the top 100, but ranked last on the main list.
In compiling the rankings, CNNMoney and compensation experts at PayScale.com considered professions that offered opportunity for advancement and personal satisfaction. Other factors included how strong the pay is now and how fast it's growing, as well as the overall availability of jobs.
Web Extras