Saturated Fatty Acids Linked to Breast Cancer in Postmenopausal Women
---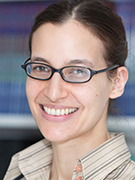 ---
There is a possible link between the presence of invasive ductal carcinoma and fatty acid fractions in breast adipose tissue for postmenopausal women in whom body mass index (BMI) values are not correlated with the fatty acid fractions, according to new Radiology research.
Melanie Freed, PhD, of New York University School of Medicine, and colleagues acquired multiple-echo 3-D gradient-echo data for 89 women. Spectra were generated and used to estimate fractions of monounsaturated fatty acid (MUFA), polyunsaturated fatty acid (PUFA) and saturated fatty acid (SFA) in the breast adipose tissue.
For postmenopausal women, MUFA was lower and SFA was higher for women with invasive ductal carcinoma than for those with benign tissue. No correlation was found between BMI and fatty acid fractions in breast adipose tissue. In women with benign tissue, postmenopausal women had a higher PUFA and lower SFA than premenopausal women.
"We used a rapid method that can be used to acquire MRI spectra during a standard clinical diagnostic imaging session. This technique enables the direct measurement of fat composition in vivo in breast adipose tissue in large patient populations," the authors write.