Ultrasound-guided Procedure Effective for Treating Plantar Fasciitis
Research funded with an R&E grant shows the effectiveness of platelet-rich plasma injections in treating plantar fasciitis
BY LYNN ANTONOPOULOS
December 01, 2016
---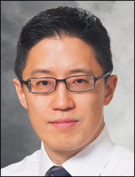 ---
Ultrasound-guided, platelet-rich plasma (PRP) injection may be a more effective treatment option for chronic, refractory plantar fasciitis than corticosteroid (SOC) injection therapy, new research demonstrates.
"There is currently no viable consensus treatment for those suffering from heel pain who fail the normal, conservative treatment forms but do not, or cannot, undergo surgery," said Kenneth S. Lee, MD, associate professor of radiology at the University of Wisconsin (UW) School of Medicine and Public Health, Madison.
Plantar fasciitis is a common musculoskeletal disorder of the heel affecting an estimated two million Americans. Ten percent of the U.S. population will be affected over a lifetime with a significant socioeconomic cost.
Dr. Lee, who conducted the study through a 2010 Toshiba America Medical Systems/RSNA Research Seed Grant, said his objective was two-part. Primarily, he sought to determine the comparative efficacy of PRP injections versus corticosteroid (SOC) injections, which is considered the current standard of care, to treat subjects suffering from plantar fasciitis. Simultaneously, he used ultrasound (US) to measure changes of several pathologic features of plantar fasciitis and investigated acoustoelastography (AE) as a means to quantitatively evaluate healing response by measuring stiffness changes using standardized 0-3 severity scales.
Dr. Lee and colleagues enrolled 44 consecutive subjects over two and a half years. Inclusion criteria included unilateral plantar fasciitis, failed conservative therapy and a visual analog scale (VAS) pain level of at least five out of 10 for at least six months.
Recruiting suitable subjects who met the inclusion/exclusion criteria for the study was the main challenge, Dr. Lee said.
"We wanted to recruit patients affected by chronic plantar fasciitis with a pain level of moderate to severe who failed conservative therapy," Dr. Lee said. "Our study population included those subjects who really had no other option except surgery."
The subjects ranged in age from 30 to 64 years (11 male, 33 female). Patients were divided into two groups: 21 PRP and 23 SOC for the study conducted between March 2011 and July 2014. Each subject received either a single injection of autologous PRP or a single injection of 1ml triamcinolone 40 mg/ml at week 0.
Several data points were obtained at baseline including VAS pain levels, validated clinical surveys (FAAM, SANE), ultrasound morphologic changes of plantar fascia thickness, hypoechogenicity (grade 0-3) and hyperemia (grade 0-3).
Both pain and function levels were the same between the two groups at baseline. Both groups improved at weeks 8 and 16 but started to diverge by week 32, with subjects receiving PRP injections showing continued improvement while the SOC group started to rebound in their pain level.
FAAM scores improved for both groups, but the PRP group improved by 12.6 points more than SOC by week 32. Additionally, SANE scores improved over time, consistently favoring PRP.
Ultrasound Plays Vital Role in Research
Sarah Kohn, RDMS, research sonographer and program manager at UW, performed the ultrasound exams for the study. After using preliminary AE to establish a baseline, Kohn used US guidance to assist Dr. Lee during treatment.
"We followed a standard protocol to assess the diseased plantar fascia and also used ultrasound so I could help guide Dr. Lee to target the abnormal tissue while he was doing the procedure," Kohn says.
Kohn used US two additional times on each subject several months after the procedure to gauge healing changes in the plantar fascia. Plantar fascial thickness and hyperemia decreased equally in both groups, but PRP showed greater echotexture improvement than SOC over time.
Results demonstrated that PRP was more beneficial than SOC in improving pain and function at 32 weeks, but longer duration studies are needed. In addition, the AE results were promising as a diagnostic metric.
Project supervisor Ray Vanderby, PhD, a professor of orthopedic surgery and biomedical engineering at UW, said the results are quite promising but do not eliminate the need for tracking pain scores and other clinical parameters.
"This research provides a quantitative tool to build on to track clinical efficacy as a treatment progresses and shows what aspect of the US images are most consistent with clinical changes," Dr. Vanderby said.
Dr. Lee agrees. "Larger multi-armed studies are needed in order to establish PRP, or possibly other minimally invasive treatments, as the standard of therapy," he said.
R&E Grant Leads to Further Research
Dr. Lee also received an RSNA Research Scholar Grant in 2013. He said he was privileged to work with fellow researchers in a dedicated research environment realized through the RSNA Research Seed and Scholar Grants.
"We learned a lot about conducting a randomized controlled trial," he said. "The success was really dependent on a team science approach with multiple investigators and research personnel in a dedicated research space."
Dr. Lee said the grant helped him to build a research team that is now developing a platform in quantitative imaging of tendons and tendon regenerative research. Investigators are seeking answers to tough questions about why tendon overuse injuries occur, how disease severity can be stratified through quantitative imaging, and how tendon disease can be effectively treated minimally invasively without surgery. The team is also investigating other common overuse injuries such as tennis elbow, jumper's knee and Achilles injuries.
In May 2016, Dr. Lee and colleagues were awarded a three-year grant from the National Basketball Association and General Electric (GE) to investigate patellar tendinopathy (jumper's knee) in elite athletes in the study, "Platelet-Rich Plasma Therapy for Patellar Tendinopathy: A Randomized Controlled Trial Correlating Clinical, Biomechanical and Novel Imaging Biomarkers."
"We are really excited to leverage our experience from our RSNA-funded research to study a similar disease-tendon pathology in basketball and volleyball players," Dr. Lee said.
Grants in Action
Name:
Kenneth S. Lee, MD
Grants Received:
2010 Toshiba America Medical Systems/RSNA Research Seed Grant
Acoustoelastography as an Outcome Measure for Platelet-rich Plasma Injection Treatment of Chronic Plantar Fasciitis: A Pilot Study.
2013-2015 RSNA Research Scholar Grant
Quantitative Imaging of the Tendon: Use of Ultrasound Shear Wave Elastography as a Biomarker to Predict Tendon Rupture.
Career Impact:
"The RSNA has been the platform from which I was able to establish my research team, ultrasound lab and academic base. Together with a great team and supportive leadership at the University of Wisconsin, I have been able to produce impactful research in the areas of musculoskeletal tendon regeneration and biomechanics," Dr. Lee said.
Clinical Implication:
Platelet-rich plasma injection treatment is more effective than steroid injection for the long-term treatmenåt of refractory chronic plantar fasciitis, according to Dr. Lee's research results.