Radiology Editor Urges Authors to Use Checklists to Improve Reporting Accuracy
Following standard checklists improves the quality of research submitted to RSNA journals, editors say
BY ED BANNON
April 01, 2016
---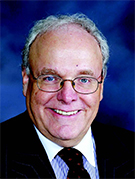 ---
Radiologists can publish more effective research and will more readily get published if they follow standard checklists of essential information to include in studies, according to Radiology Editor Herbert Y. Kressel, M.D.
Researchers should follow a checklist to ensure they include key information in their studies to show that their conclusions are reproducible and generalizable, said Dr. Kressel in an RSNA 2015 session.
"Researchers need to understand the importance of these checklists and how they can be used to improve the quality of the reporting of studies submitted to our journal," said Dr. Kressel, professor of radiology at Harvard Medical School. "The major focus has been on reproducibility of results."
Dr. Kressel provided examples. In working with original authors, a pharmaceutical company could only reproduce results on five of 53 key studies, he said. And in another review of studies, another company could only reproduce results in 25 percent of 63 studies, he said.
Checklists Raise the Standard of Publishing
To address similar problems in radiology research such as bias and applying an inappropriate analysis method, presenters offered an overview of various checklists, including Standards for Reporting Diagnostic Accuracy Studies, or STARD, and Preferred Reporting Items for Systematic Reviews and Meta-Analyses, or PRISMA. Dr. Kressel focused on STARD and PRISMA because they were developed for the most common types of studies that RSNA publishes.
Dr. Kressel noted that the National Institutes of Health (NIH) is increasingly concerned about the reproducibility of the results of NIH-funded studies and now requires grant recipients to make the data from their studies publicly available.
STARD is a checklist for reporting studies on the accuracy of a diagnostic procedure. It outlines the standard sections for a study and includes a checklist of more than 30 required items such as an index test, participants' eligibility criteria and where the full study protocol can be accessed.
It is better to consult PRISMA, an evidence-based minimum set of items for reporting in systematic reviews and meta-analyses, if a researcher is conducting a systematic review of research or a meta-analysis, said presenter Matt McInnes, M.D., associate professor at the University of Ottawa who received the 2014 RSNA Eyler Editorial Fellowship.
The PRISMA checklist suggests including such items as presenting a full electronic search strategy for at least one database; discussing methods used for assessing risk of bias of individual studies; and discussing limitations at study and outcome level and at review level.
Other guides include CONSORT, a checklist for reporting randomized controlled trials, and STROBE, a checklist for reporting observational studies.
Although the checklists might seem burdensome, researchers should view them as tools to ensure the research is done correctly, said presenter Patrick Bossuyt, M.D., a clinical epidemiologist from the University of Amsterdam who helped draft the first STARD checklist 15 years ago. "Publishing quality research is about increasing value, reducing waste and disseminating more information," he said.
Senior Deputy Radiology Editor Deborah Levine, M.D., agreed, saying that raising the standard of publishing is good for the researchers. "Our goal is to help you build and optimize your research study and have the most clinical impact," she said.
Web Extras
Access STARD and PRISMA guides on the EQUATOR network website, which includes a tool to help researchers determine which reporting checklist is best for their research. www.equator-network.org