RSNA News Has Grown with the Society
---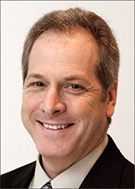 ---
"Things don't have to change the world to be important." - Steve Jobs
As my six-year term as editor draws to a close, I sincerely hope that you, the readers, consider RSNA News as relevant, at least, if not important. It's a team effort and we strive to earn your trust, provide interesting and informative content, and be responsive to your needs.
When RSNA News began almost a quarter century ago, its main purpose was to inform RSNA members about available benefits and services. At the time, it was a quarter of its current length (and photocopied). Growing as the Society grew, the scope of the magazine's mission has grown, too, and our goal is to be a more comprehensive news source on multiple levels to multiple readerships—including residents and fellows, international members, researchers and physicists.
With a general shift to online consumption of news and readers' expectation that the latest information should be only a click away, we recently introduced "Digital First" to the online version—posting current events as they happen, well in advance of fully developed feature articles. And our content is increasingly available in a variety of formats, giving you the option of using a mobile device or computer to read and store your copies—or maybe you prefer good old-fashioned print! We're very proud of that achievement.
Looking ahead, the future of RSNA News is in great hands. Please look at the masthead and familiarize yourselves with the many individuals who make this happen. The editorial board is a broadly representative sampling of diverse backgrounds and practice environments and each member brings unique talents. Our writers and production staff are seasoned professionals.
I am very proud of what we've accomplished so far but, even more, I look forward to being a reader of RSNA News for many years to come!
David M. Hovsepian, M.D.
RSNA News Editor