Image Viewer Tool Aids Online Radiology, RadioGraphics Experience
The newly launched RSNA Image Viewer tool gives users a rich new interface for viewing and comparing images in RSNA's peer-reviewed journals.
BY PAUL LATOUR
September 01, 2014
---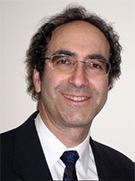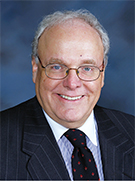 ---
For the first time, online readers of Radiology and RadioGraphics have access to a unique, multifaceted image viewing tool to aid in their learning and understanding of the medical studies appearing in both journals.
The RSNA Image Viewer, which debuted in June, gives users a rich new interface for viewing and comparing images. New capabilities include: comparing up to four images from the same article (two when using a tablet); zooming in and out of images or focusing on specific areas with the magnifier; and downloading images and captions to a PowerPoint deck to use for teaching or self-study. RSNA members can also save images as bookmarks in myRSNA® to access anytime. The tool is available for all articles in both journals.
"It is of the utmost importance for us to facilitate readers' ability to look at, organize and manipulate images," said RadioGraphics Editor Jeffrey S. Klein, M.D. "The new RSNA Image Viewer actually allows users to see and compare images in the same article. It provides functionality in new ways that parallel a diagnostic setting."
The zoom function allows images to maintain their resolution upon magnification, so users can examine the type of subtle finding that might illustrate a mammographic study, for example.
Imaging Tool Built to Expand
A partnership with Atypon, a leading provider of specialty software to deliver online content, allowed RSNA to create the tool, which is available for all articles in both journals. It also allows for future expansion of the tool to continue efforts to recreate a diagnostic setting for radiologists.
One such tool could offer a way to mimic how radiologists examine stacks of images for a particular cross-sectional study. Eventually the Image Viewer will let users display an entire stack of images in a cine fashion, which is a motion-picture record of successive images.
The ability to compare images from previous published papers or from studies in the same issue of the journals is also being developed. Another upcoming feature includes the ability to use the gray-tone window/level settings, which cannot be done with a static image.
"Other features we are going to build into this will have significant educational possibilities in assessing whether our readers, when reviewing our papers, are actually learning where to find the abnormalities or how to describe them, Dr. Klein said.
"This is RSNA's tool, so we really have a lot of control over how it evolves and what features we want it to have. Whatever functionality is built into it is going to be geared toward those people who read our journal," he added.
Special Centennial Supplement of Radiology Explores the Evolution of Imaging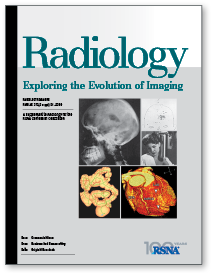 As RSNA prepares to celebrate its first 100 years, Radiology editors are offering an RSNA Centennial supplement to the journal, "Radiology: Exploring the Evolution of Imaging," featuring 10 review articles that highlight the evolution of imaging during RSNA's history. "Radiology: Exploring the Evolution of Imaging," will appear as a complimentary supplement to the November issue online and in print.
In an introduction to the supplement, Radiology Editor Herbert Y. Kressel, M.D, and Senior Deputy Editor Deborah L. Levine, M.D., stress the importance of using the journal to reflect on radiology's past and the dramatic changes in imaging and its role in medicine.
"For this centennial celebratory edition, we asked authors to provide a scientific narrative of the development of imaging approaches to diagnosis and management, highlighting key inflection points in the history of imaging, and using original images published in our journal to highlight their important points," Drs. Kressel and Levine write. "The selection of topics for articles was in many ways subjective, since every area of our field has shown remarkable change in the past nine decades that span our journal's history."
The articles are tied together by the themes of initial observations leading to more scientific discovery, technical development and growth of clinical applications. They are:
"The Role of Radiology in the Evolution of the Understanding of Articular Disease," Mark Schweitzer, M.D., and Mingquian Huang M.D.
"The Evolution of Breast Imaging: Past to Present," Bonnie Joe, M.D., Ph.D., and Edward Sickles, M.D.
"CT: Revolutionizing the Practice of Medicine for 40 Years," Geoffrey Rubin, M.D.
"Interventional Radiology: A Half Century of Innovation," Stanley Baum, M.D., and Richard Baum, M.D.
"The History of Imaging Obstetrics," Carol Benson, M.D., and Peter Doubilet, M.D., Ph.D.
"The History and Evolution of Brain Tumor Imaging: Insights through Radiology," Mauricio Castillo, M.D.
"The Imaging of Renal Masses," Bruce McClennan, M.D.
"The History of Cardiac Imaging," Albert de Roos, M.D., and Charles Higgens, M.D.
"History, Evolution, and Current Status of Radiologic Imaging Tests for Colorectal Cancer Screening," Marc Levine, M.D., and Judy Yee, M.D.
"The History of MR Imaging as Seen Through the Pages of Radiology," Robert Edelman, M.D.
Members and subscribers who receive print copies of Radiology will automatically receive a printed copy of the supplement with their November issue. Members who have opted out of receiving print issues can request a free copy of the supplement online at RSNA.org/Centennial-Supplement until September 30. After that, there will be a $25 fee (U.S., Canada, Mexico); $37 international. Non-member subscribers who do not receive the print issue can purchase a copy via the website for $40 (U.S., Canada, Mexico); $52 international.
The supplement will also be available for purchase at the RSNA Store during the Annual Meeting.
Podcasts with the authors will be available at RSNA.org/Radiology-Podcasts.
COMING NEXT MONTH The legacy of imaging research in Radiology will be the focus of an October-November My Turn column by Radiology Senior Deputy Editor Deborah Levine, M.D.
RSNA 2014 Sessions Focus on Peer Review Process


The peer review process is included in RSNA 2014 sessions including:
"Reviewing Manuscripts for the RSNA Journals" (Sponsored by the RSNA Publications Council), Thursday, Dec. 2 Radiology Editor Herbert Y. Kressel, M.D., and RadioGraphics Editor Jeffrey S. Klein, M.D., will discuss similarities and differences in the peer review process for RSNA journals. Topics include the functions of the reviewer in the peer process, desired elements for peer review of a manuscript and how a reviewer can receive AMA PRA Category 1 CME credit for manuscript review.
"RadioGraphics' Publication Information for Potential Authors," Thursday, Dec. 2 RadioGraphics Editor Jeffrey S. Klein, M.D., will discuss the publication process including content elements, figure preparation and format compliance. The session includes a live demonstration of the steps involved in submitting a manuscript through the RadioGraphics site in ScholarOne Manuscripts.
More information on Radiology and RadioGraphics will be available at the Journals Booth in RSNA Services at RSNA 2014. Registration for all RSNA 2014 sessions is underway at RSNA.org/Register.