Uncompensated Emergency Services Growing
Much of the growing use of medical imaging in the emergency department is uncompensated
---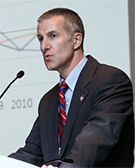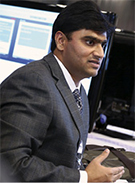 ---
Daily Bulletin coverage of RSNA 2013 is available at RSNA.org/bulletin.
Utilization of medical imaging nationwide may be in decline, but its use in the emergency department setting continues to grow—and much of that use is uncompensated, according to a study presented at RSNA 2013.
In his study of a research sample representing an estimated 8 percent of radiologists nationwide, Richard Duszak Jr., M.D., found radiologists received no compensation at all for 28.4 percent of radiological services rendered to emergency department (ED) patients.
"Given the 'safety net' role of EDs for uninsured patients, uncompensated services are increasingly a challenge to all specialists and appear to be a particularly common problem for radiologists," said Dr. Duszak, chief medical officer of the Harvey L. Neiman Health Policy Institute (HPI) of the American College of Radiology.
The shortfall represents a mean $2,584 per month per physician in Medicare dollars for professional services alone, said Dr. Duszak, incoming vice-chair for Health Policy and Practice in the Department of Radiology and Imaging Services at the Emory University School of Medicine in Atlanta. "As physician reimbursement declines, this volume of uncompensated care could threaten patient access," he said.
Data from 2009 to 2012 were captured by Zotec Partners, a nationwide radiology billing company. Most commonly rendered services were: one-view and two-view chest radiography (20.8 and 28.3 percent uncompensated, respectively); non-contrast brain CT (26.5 percent uncompensated); and contrast and non-contrast abdomen/pelvis CT (28.8 and 27.6 percent uncompensated, respectively).
Most frequent modalities were radiography (27.4 percent uncompensated); CT (29.1 percent uncompensated) and ultrasound (33.5 percent uncompensated). Although CT represented just a third of ED services, it accounted for nearly two-thirds of uncompensated dollars. Of all uncompensated services, 52.3 percent were rendered to uninsured patients.
"Our findings help to increase the awareness of policymakers and regulators so that ED patient access to needed radiological services is ensured," Dr. Duszak said.
Order Entry System for Trauma CT Increases Reimbursement Success
In another RSNA 2013 study, researchers measured the impact of a structured physician order entry system for trauma CT imaging on the clinical information provided to the radiologist and on associated coding practices and reimbursement success.
The study was conducted between at a quaternary care institution with a Level 1 Trauma Center and 58,000 ED visits annually and comprised 457 patients who received CT pan-scans, including 2,734 distinct exam accessions. After the intervention, there was a 62 percent increase in requisitions containing clinical signs, symptoms or physical examination findings and a 99 percent increase in provided mechanism of injury.
There was a 19 percent increase in primary ICD-9-CM codes representing clinical signs or symptoms (from 3 percent to 22 percent, p < .0001), and a modest 4 percent increase in reimbursement success for examinations submitted to insurance carriers (from 91 percent to 95 percent, p = .003). Rate of initial reimbursement denials dropped 7 percent (from 24 percent to 17 percent, p = .04).
Results showed that implementation of structured physician order entry for trauma CT imaging was associated with a large increase in rate of clinical history provided to the radiologist and was associated with a decrease in initial reimbursement denials and a modest increase in reimbursement success.
Multiparametric MR Aids Earlier Detection of Prostate Cancer Recurrence
Daily Bulletin coverage of RSNA rel="noopener noreferrer" 2013 is available at RSNA.org/bulletin.
Multiparametric MR (mp-MR) can enable earlier detection of cancer recurrence and improve treatment planning in patients who experience an increase in prostate specific antigen (PSA) after undergoing treatment for prostate cancer, according to the author of an RSNA 2013 education exhibit.
Prostate cancer is treated most often with surgery and radiation therapy as first-line therapy. Although many patients experience elevated levels of PSA after treatment, the elevated levels are not always indicative of local recurrence or extensive metastatic disease, said Varaha Tammisetti, M.D., of the University of Texas Health Science Center at Houston.
"Elevated PSA levels don't tell if there is a recurrence, and if there is recurrence, they don't tell you if the cancer has spread outside of the prostate," Dr. Tammisetti said. "Some patients get blind therapy without evidence of a recurrence."
The education exhibit demonstrated how mp-MR combines different MR imaging techniques to provide more accurate information about both anatomy and function in patients with PSA relapse.
"Conventional imaging such as bone scans and CT are helpful only when disease is significantly advanced or metastatic, at which time treatment options are palliative rather than curative," Dr. Tammisetti said. "We combine the advantage of the high-contrast resolution of MR with functional parameters like information on how tightly cells are packed, how blood flows in tissue and the chemical makeup of tissue. With MRI we can detect recurrence at an earlier point than other modalities, speeding the onset of appropriate treatments."
Dr. Tammisetti also noted the role of mp-MR in imaging strategies for different types of recurrences. For instance, dynamic contrast-enhanced (DCE) MR is effective in helping detect small-sized prostate cancer recurrence after radical prostactectomy, while a combination of DCE-MR and diffusion-weighted imaging (DWI) is highly efficient after external-beam radiation therapy. Some research points to a complementary role for the two approaches. "The key challenge with a PSA rise is distinguishing a local recurrence from metastatic disease," Dr. Tammisetti said.
In addition to aiding in the identification of local recurrence, prostate mp-MR provides more accurate information on the extent of the tumor, which is useful when choosing a second-line treatment such as cryoablation or androgen deprivation therapy. After radiation therapy, mp-MR helps with accurate tumor localization, important in image-guided minimally invasive therapy or image-guided biopsy. It is also effective for guiding biopsies.
Dr. Tammisetti suggested that the most optimal use of mp-MR in patients with PSA relapse would be as a complement to PET with choline or other newer agents to measure specific changes in metabolic activity associated with cancer. While literature on choline PET is still evolving, it has already shown effectiveness at helping identify systemic disease, but it may not have as much spatial resolution as MR to detect smaller-sized local recurrence.
"In the future, we may see multiparametric MR integrated into the workup of recurrent cancer along with choline PET and other newer PET agents," Dr. Tammisetti said.