Tomosynthesis Aids Breast Cancer Detection
RSNA 2013 researchers discuss recent breast imaging technology including digital tomosynthesis
---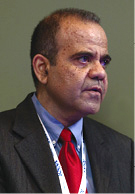 ---
Daily Bulletin coverage of RSNA 2013 is available at RSNA.org/bulletin.
Tomosynthesis is significantly better than conventional mammography at detecting breast cancers and characterizing morphology, according to research presented at RSNA 2013.
"There have been just a few clinical studies focusing on the advantages of tomosynthesis over conventional mammography," said Pragya A. Dang, M.D., of Massachusetts General Hospital, Boston. Those studies include findings that the use of tomosynthesis reduces recall rates, improves diagnostic accuracy and increases cancer detection.
"We wanted to delve further into our own experience and use the data we've collected over the last couple of years since we've been using tomosynthesis in clinical practice in order to access the maximum performance of these two technologies," Dr. Dang said.
Dr. Dang and colleagues retrospectively reviewed 172 biopsy-proven invasive breast cancers (142 invasive ductal carcinoma [IDC], 25 invasive lobular carcinoma [ILC] and 5 invasive mammary carcinoma) that were consecutively accrued prior to biopsy between March 2011 and October 2012. The cancers were imaged with tomosynthesis and conventional digital mammography.
Two radiologists rated the visibility and morphology of these cancers with both tomosynthesis and conventional mammography without the presence of prior imaging. "Tomosynthesis demonstrated a significantly improved degree of visibility compared to digital mammography," Dr. Dang said.
Readers asked to determine whether tomosynthesis performed better, the same or worse than mammography rated tomosynthesis as superior to mammography in visualizing cancers in 70 percent of the cases, Dr. Dang said.
Lesion visibility was rated on a 5-point scale, from 1 (not visible) to 5 (obvious). Visibility scores for IDC were 3.4 for tomosynthesis and 2.8 for mammography; ILC scores were 3.2 for tomosynthesis and 2.3 for mammography. "For both of these readers there was basically a one point improvement with tomosynthesis on the visibility score, which is statistically significant," Dr. Dang said.
Of the 172 cancers, 28 (16 percent) were occult on mammography, whereas just 5 (3 percent) were occult on tomosynthesis. Characterization of tumor morphology also improved with tomosynthesis, Dr. Dang said.
"Along with the improved visibility a much higher percentage of the cancers were more definitively characterized as masses compared to asymmetries, which were only available on one view," she said.
For example, she pointed out that the first reader was only able to characterize 42 percent of cancers as masses with conventional mammography, compared to 78 percent with tomosynthesis.
Results were similar with the second reader, who was able to characterize 84 percent of the cancers as masses with tomosynthesis, compared to 36 percent with conventional mammography. But readers characterized 19 percent of the cancers as asymmetries on conventional mammography, compared to just 2 percent with tomosynthesis.
"This better characterization of tumor morphology does help translate into improved detection of cancers," she said.
"Results show that tomosynthesis is significantly better than conventional mammography in visualizing cancers that we believe would translate to increased cancer detectability upon screening," she said. "It also provides more accurate morphology of cancers that allow for a better assessment of a lesion in initial imaging."
Digital Breast Tomosynthesis Offers Superior Pre-surgical Staging
Digital breast tomosynthesis has the potential to replace full-field digital mammography (FFDM) for assessing invasive breast cancer, according to an RSNA 2013 presenter.
Although FFDM and ultrasound are the proven imaging modalities for detecting breast cancer, presenter Asif Iqbal, M.D., said digital breast tomosynthesis is an emerging technology which is showing better accuracy in measuring the tumor sizes.
Two main problems are associated with FFDM, according to Dr. Iqbal, of the Breast Radiology Department of the National Breast Screening Centre at King's College Hospital in London, and colleagues. Anatomical noise from breast parenchyma can obscure tumors and certain growth patterns, such as diffusely infiltrating invasive lobular carcinoma, have relatively little fibrous or connective tissue growth around the tumor. "The characterization of the lesion—the extent of the tumor margins and the boundary of the lesion—are not as easily visible on FFDM," Dr. Iqbal said.
Digital breast tomosynthesis overcame these problems. "In particular, on the spiculated masses, which appear as a star shape, the spicules coming out from the nucleus of the tumor are easily visible, but they aren't as easily visible on FFDM," Dr. Iqbal said.
Researchers also found that digital breast tomosynthesis had a tendency to "over-measure" the size of tumors whereas ultrasound had a tendency to "under-measure." The team also reported changes in mammographic signs between the two modalities.
"Comparing FFDM with tomosynthesis, sometimes we found that a lesion with asymmetric density or parenchymal distortion would change into a spiculated mass on digital breast tomosynthesis," Dr. Iqbal said. "Mammographic sign change is one of the most significant benefits."
"Because of the glandular appearance of the tissue on the 2D, especially in dense breasts, it may not be easy to find the foci of the tumor and the reader may classify it as normal or BI-RADS 1," Dr. Iqbal said. "But on the FFDM, because of the 3D information within the slices, we have noticed that it sometimes changes into a circumscribed or a spiculated mass."
Researchers studied 139 breast lesions in 137 patients, who averaged 58 years. The team found that 77.7 percent of the cancers were invasive ductal carcinoma, 15.8 percent were invasive lobular carcinoma, 2.2 percent were mucinous carcinoma and 2.8 percent were tubular carcinoma. There was one case each of medullary, lymphovascular and papillary carcinoma. Of the three tested modalities—FFDM, digital breast tomosynthesis and ultrasound—tomosynthesis offered the highest degree of accuracy in determining maximum tumor dimension, with a greater ability to determine tumor margins.
Dr. Iqbal said he believes that digital breast tomosynthesis has the potential to provide the best tumor staging for preoperative management. "Digital breast tomosynthesis will help in accurate tumor size measurement, which will in turn be important especially in conservative breast surgery. It will help us choose the surgical option that is best for the patient."
The superior measurement of digital breast tomosynthesis compared to FFDM and ultrasound is mainly due to the additional information in the 3D series of thin slices.
Dr. Iqbal and his team are further exploring the use of "synthetic 2D" generated with tomosynthesis. Dr. Iqbal's research earned a 2013 RSNA Trainee Research Prize honoring an outstanding scientific presentation in each subspecialty presented by a resident/physics trainee, fellow or medical student.
System Aids Breast Cancer Detection in Women with Dense Breasts
A unique risk-assessment imaging system and model presented at RSNA 2013 accurately assesses the likelihood of breast cancer, especially in women with dense breasts, researchers say. The metabolic imaging and risk assessment (MIRA) model works as an adjunct to mammography in enabling early detection of breast cancer.
"One of the main issues with mammography is that it is very difficult to get an accurate reading for women with dense breasts," said presenter David Izhaky, Ph.D., vice-president of research and development at Real Imaging, Ltd., a medical imaging company based in Israel's Airport City. "You cannot replace mammography, but you can add an additional modality to aid the physician, particularly for women with dense breasts," he said.
Dense breast tissue appears as a solid white area on mammograms, while the non-dense (fatty) tissue appears as dark areas. Tumors are also dense tissues. Because X-rays don't penetrate dense tissue as effectively as they do fatty tissue, relying on mammograms alone to help detect tumors can become troublesome.
"What you get in the mammogram of a woman with dense breast tissue is the same contrast you would get for the tumor," Dr. Izhaky said. "It's very difficult for the physician to see the difference in the contrast in the image between the tumor and the healthy tissue."
Another drawback of mammography is that results are based on human interpretation, which can lead to error such as missed diagnoses of breast cancer. And the current risk assessment models for breast cancer rely on genetic susceptibility and family history in addition to mammographic breast density.
Dr. Izhaky and his team targeted those issues in developing the computerized, noninvasive imaging modality used in the study, which comprised 3D breast vascular maps of 339 women. Of those women, 209 were healthy, 36 had benign lesions and 94 had biopsy-proven breast cancer. Researchers used receiver-operating characteristic (ROC) analysis and bootstrapping to assess the diagnostic accuracy of the breast cancer likelihood. They found an overall 84.1 percent area under the ROC curve, which increased to 86.5 percent when looking at dense-breast examples.
"We believe we have the first risk-assessment tool purely based on imaging biomarkers," Dr. Izhaky said.
The tool would be essential in early detection and prevention strategies, which depend on the ability to accurately identify individuals with significantly increased breast cancer risk. "Our technology attempts to provide a dynamic assessment analyzing the chances that a woman harbors a breast cancer at a specific time, based on objective metabolic signatures," Dr. Izhaky said. "If assessed as high risk, such a woman would need immediate further workup to detect and localize the cancer.
"In 10 years, most imaging modalities will provide risk assessment for the presence of pathology," he said. "Providing the risk is by no means intended to exclude physicians from the clinical decision process, rather to provide them with a non-biased objective assessment in order for the physician to decide on the most appropriate workup for the patient, adopting a personalized, tailored approach."