RSNA Visiting Professors Give Back to Colleagues in Argentina
RSNA International Visiting Professors (IVPs) visiting Argentina gained considerable perspective on challenges facing the country's radiologists
BY EVONNE ACEVEDO JOHNSON
December 01, 2014
---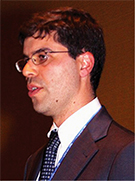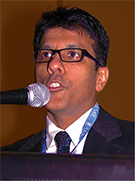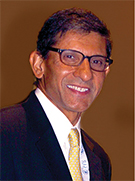 ---
During their recent visit to Argentina, a trio of RSNA International Visiting Professors (IVPs) experienced a warm welcome from a community of highly knowledgeable radiologists eager for advanced training opportunities in an environment with often limited resources.
In addition to lecturing at the Sociedad Argentina de Radiología's (SAR) Annual Congress (CAR 2014) during their September trip, U.S. professors Stephen Zivin, M.D., Suresh K. Mukherji, M.D., and Mahesh Shetty, M.D., interacted with faculty and trainees at three hospitals: Hospital Alemán, Hospital Argerich and Hospital Britanico, in Buenos Aires.
The RSNA IVP program annually sends highly regarded professors to lecture at national radiology society meetings and to visit radiology residency training programs at select host institutions in developing nations.
"Radiologists at both hospitals had a very high level of knowledge," said Dr. Zivin, a radiologist and clinical director of CT at Northwest Community Hospital in Arlington Heights, Ill. "They read the journals, they attend meetings and are involved in the global community."
The IVP team also touted the warm reception they received from their Argentinian hosts.
"I was impressed with the positive and friendly attitude of both staff and residents," said Dr. Shetty, a clinical professor of radiology at Baylor College of Medicine and chief physician at the Woman's Center for Breast Care in Houston. "There is an amicable atmosphere in the departments despite a heavy workload in the face of limited resources."
Argentinian Radiologists Work to Overcome Challenges
During their visit, the IVP team gained considerable perspective on the challenges facing Argentinian radiologists—and healthcare in the country overall.
For example, Dr. Zivin saw obvious discrepancies between the resources at privately-funded vs. government-funded hospitals. "Many radiologists serve both public and private systems, and during my brief visit, I found that the private system has much better access to resources while the public institution is underfunded," Dr. Zivin explained.
The struggling Argentinian economy creates obstacles on a number of fronts. "There's not enough capital for some of the large-scale equipment purchases that would allow the latest technology to be fully disseminated around Buenos Aires," added Dr. Mukherji, a radiologist at Michigan State University (MSU) HealthTeam in East Lansing and the Walter F. Patenge Endowed Chair and professor at MSU.
The public hospital visited by the IVP team lacks PACS, process images with conventional film and does not possess a reliable filing system for archived images. "When a patient receives a mammogram at the public hospital I visited, each one is essentially a baseline mammogram," Dr. Zivin said.
Nevertheless, radiologists work hard to make the best use of their resources, Dr. Shetty said.
"One of the hospitals where I lectured did not have an image storage capability for general radiology or for breast imaging," he said. "MR imaging was not available. Radiology staff and residents worked long hours, averaging 12 hours or more each day."
Ultrasound was well utilized, Dr. Shetty observed, "and rightly so, considering it is most cost-effective in view of the resource limitations."
Dr. Mukherji observed another limitation—the lack of subspecialty training.
"Fellowships are limited, as are the opportunities to study abroad," he said. "Advanced imaging techniques are not as prevalent as they are in the U.S., and fellows often don't have access to train in the rest of the world."
In general, trainees are interested in "what trainees everywhere in the world are focused on, bread and butter radiology. In my subspecialty area—head and neck—I found them extremely receptive," Dr. Mukherji said.
Trip Reaffirms Resolve to Give Back
Though it was an honor to be invited to speak at the congress, Dr. Mukherji said that the most rewarding part of the trip was visiting the hospitals to observe different cases and interact with residents.
Dr. Zivin concurred. "That's when you really get to interact with people—it's a great opportunity for a cross-cultural exchange of ideas."
Dr. Shetty added that the experience reinforced his own resolve to mentor trainees throughout his career—a sentiment shared by his teammates. Dr. Mukherji, who early in his career received a seed grant and a scholar grant from the RSNA Research & Education (R&E) Foundation, emphasized the importance of investing in the radiology community.
"As a grantee, I always promised myself that when I had the resources, I would give back, and I have," Dr. Mukherji said. "RSNA does so much for radiology with its myriad of programs, including IVP. I think it's important for all of us to acknowledge that and to make sure we continue to invest.
"Truthfully," he added, "RSNA could ask more of us."
Spreading the Wealth of Resources
Dr. Shetty hopes that not only will IVP teams return to Argentina but also that Argentinian trainees will be able to travel to the U.S. for "mini-fellowships."
"We should engage the residents, maybe have a more interactive session, perhaps participate in the daily readouts and schedule formal lectures after hours so as not to interrupt their routine clinical practice and ensure better attendance," Dr. Shetty said.
The international community should always take advantage of the online resources RSNA offers, team members added.
"The international program is impactful," Dr. Shetty continued. "Our lectures build a lot of enthusiasm for RSNA, for the topic we're discussing and for our specialty as a whole."
"Everyone practices radiology differently througout the world," Dr. Zivin said. "Here in the U.S., we're fortunate because of our abundant resources, and this is a way to help educate other parts of the world about the RSNA resources available to everyone."
RSNA thanks Agfa Healthcare and Fuji Medical Systems for their support of the IVP program. For more information on the RSNA IVP program, go to RSNA.org/International.
RadioGraphics Editor Discusses Journal Process at CAR
Along with the IVP team, RadioGraphics Editor Jeffrey S. Klein, M.D., traveled to Argentina to educate CAR attendees on the peer-review and publication processes for the RSNA journal and demonstrate the journal's new online capabilities.
Dr. Klein, who lectured at one of the IVP team destination institutions, Hospital Alemán, praised the international impact of RSNA's IVP program.
"The IVP program is an important component of the RSNA effort to better engage the international radiology community," Dr. Klein said. "It provides access to RSNA's educational and technical expertise in a broad spectrum of imaging applications."
Dr. Klein also lectured on evaluation of the solitary pulmonary nodules, including screening demonstrations, at the Neurological Research Foundation.