Y-90 Shows Promise in Treating Metastatic Breast Cancer
Research shows that Y90 radioembolization is promising in treating breast cancer that has spread to the liver
BY MIKE BASSETT
August 01, 2014
---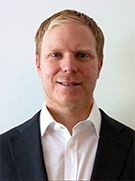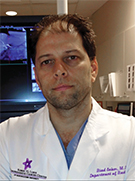 ---
New research on the minimally invasive, image-guided therapy Yttrium-90 (Y-90) radioembolization shows promise in treating breast cancer that has spread to the liver when no other treatment options remain.
In 2014, approximately 232,570 new cases of invasive breast cancer will be diagnosed, according to American Cancer Society estimates. Half of the patients who develop metastatic disease will see the cancer spread into their liver. To make matters worse, these patients may not respond to some chemotherapies or may be unable to withstand the often debilitating side effects of the therapies.
"Although this is not a cure, Y-90 radioembolization can shrink liver tumors, relieve painful symptoms, improve the quality of life and potentially extend survival," said lead researcher Robert Lewandowski, M.D., an associate professor of radiology at Northwestern University Feinberg School of Medicine in Chicago.
In research presented at the 2014 Society of Interventional Radiology Annual Meeting, Dr. Lewandowski and colleagues treated 75 women (ages 26-82) with breast cancer liver metastases, all of whom had progressive disease. In addition, 85 percent of these women had multiple liver tumors and 77 percent had disease outside the liver.
"These were patients with very advanced diseases and there were a variety of reasons why we were able to treat them," Dr. Lewandowski said. "Some were on chemotherapy and everything was stable except for the disease in the liver, while some had disease outside the liver that was limited compared to the disease burden in the liver. These are people whose disease was confined to the liver or the dominance of the disease was confined to the liver, so the idea was that radioembolization could help improve their outcomes."
Researchers determined that the tumors got smaller or remained stable in 98.5 percent of the patients after radioembolization, while tumor reduction of more than 30 percent occurred in 24 patients. Additionally, these women experienced no major side effects.
Y-90 Delivers Powerful Targeted Treatment
In Y-90 radioembolization, an interventional radiologist guides a catheter into the hepatic artery that supplies blood to the liver. Microbeads containing radioactive Y-90 are then injected and float downstream to deliver cancer-killing radiation inside the heart of the tumor.
With systemic treatments like chemotherapy, "you inject something into a vein and hope it gets into the right area. Sometimes it does, but if not, whole-body side effects like hair loss or diarrhea can occur," said study author Riad Salem, M.D., a professor of radiology, medicine-hematology/oncology and surgery-organ transplantation at Northwestern. "With radioembolization, we are delivering a very potent dose of radiation only to the liver, thereby achieving better anti-tumoral treatment with fewer side effects."
In the past, Dr. Lewandowski explained, Y-90 radioembolization has been used to successfully treat primary liver cancer and metastatic colon cancer. "Because of the success of radioembolization in these settings, we are starting to see interventional radiologists being asked more and more to treat patients who have other cancers that have spread to the liver," Dr. Lewandowski said. "The liver is a very prevalent area of metastatic disease, and breast cancer is an important source."
At Northwestern, patients come in for care very late in the disease, often when they have no other treatment options. While metastatic disease in colon cancer patients is often confined to the liver, breast cancer patients present a "unique challenge," Dr. Lewandowski said, because the disease spreads so readily to other parts of the body.
"You have to make sure it makes sense to use this therapy," Dr. Lewandowski stressed. "It's only going to have an effect on the disease we target, so if people have disease everywhere in the body as well as the liver, it may not make sense to treat them with a liver-directed therapy."
The next step will be to evaluate whether outcomes in this patient population will improve by combining treatments like chemotherapy and radioembolization, Dr. Salem said. "The idea is that we can provide combined—not sequential—treatment," he said. And provide that combined treatment earlier, Dr. Salem added.
"In general, we manage the disease with chemotherapy first and then consider other options," Dr. Salem said. "We would like to see this very potent therapy moved ahead in the armamentarium of treatments so that instead of waiting until a lesion is too large or too disseminated, we're using a treatment that can result in better local disease control earlier in the process."

RSNA 2014 Features Interventional Oncology The Interventional Series: "Complications in Interventional Oncology—Avoidance, Recognition and Management", will be offered at RSNA 2014.